INTRODUCTION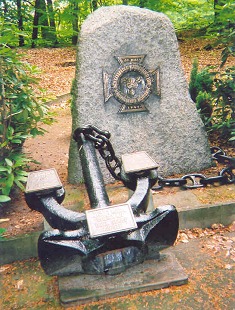 "The Bismarck had put up a most
gallant fight against impossible
odds, worthy of the old days of
the Imperial German Navy,
and she went down with
her colours still flying."

Commander of the Home Fleet,
Admiral Sir John Tovey

.


Hello, and welcome aboard KBismarck.com. This web site is devoted to the greatest and most famous warship of all times, the legendary German battleship Bismarck. Here you will find the complete operational history of this magnificent 50,000-ton ship from her construction to sinking. In addition, you will have access to technical data, graphical drawings, crew information, a lively posting board, and much more.
The battleship Bismarck deserves the attention of all serious historians, for she was the primary protagonist of one of the most dramatic episodes of World War II. Bismarck's shining adventure in the Atlantic marked one of the few times during World War II that a sole battleship attempted to maintain its traditional role as king of the seas, and the ship's tragic fate served as a death knell for an era that stretched back to the 1850s. The days of big guns and stout armour gave way to aircraft, torpedoes, and bombs. Yet for a brief but intense service period the Bismarck was the largest, most powerful, and for many, the most beautiful warship afloat. Unlike her sister-ship Tirpitz, or the Japanese battleships Yamato and Musashi, which were all sunk without the opportunity to engage enemy battleships, the Bismarck fought valiantly against a far superior enemy, and was eventually defeated in one of the most astonishing battles ever waged. As in the days of old, the ship dueled the British battle cruiser Hood and her consort, the battleship Prince of Wales. Six minutes later the Hood was torn in half by a devastating magazine explosion, and the Prince of Wales was forced to break away. But it was not merely the world-wide publicity after sinking the Mighty Hood that earned Bismarck a place in history. It was also the enormous amount of human and material resources utilized for hunting down and destroying this modern leviathan.
Hundreds of books, magazines, and publications of all kinds have been written about this formidable warship in different languages, and except for the Titanic, no other vessel has been as much discussed as the Bismarck. Even today, more than 60 years later, the battleship's unique story continues to draw the attention of thousands of young people throughout the world, and it has become a classic in naval literature.

This web site was officially launched on-line on 27 May 1998, on the 57th anniversary of the Bismarck sinking. My friend Manuel P. González and I gathered all the sources then at our disposal, with the goal being to make the site as complete as possible. Together we spent many hours identifying the photographs of the battleship and expressing our own points of view. Over the years other contributors have joined and the site has grown to what it is today.

KBismarck.com has also its own Archive, which makes original documents and letters concerning the battleship Bismarck and the German Navy readily available on-line. This archive is maintained by a dedicated and responsible team of archivists and researchers, and new information is constantly being processed, translated, and made available to the public. Ulrich H. Rudofsky has been by far the greatest supporter in this regard as he has translated a lot of German war diaries and other documents to English language.

With all this in mind, we invite you to join us in this voyage through history and discover the events that made the battleship Bismarck a legend. Finally, I want to say that this site is intended for all those who study World War II history, as well as for those who enjoy great naval battles. We hope you have a nice stay, and once again, welcome aboard.

The webmaster and editor,
José M. Rico
---