BOOK: Kriegsmarine am Feind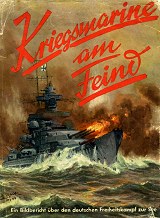 Title: Kriegsmarine am Feind.
Author: Friedrich Meier.
Publisher: Erich Klinghammer, Berlin.
Publication date: 1941.
Language: German. In the modern PDF version an English translation is included too.
Format: Hardcover, 415 b/w photos, 241 pages.
Comments: Kriegsmarine am Feind (The Kriegsmarine engaging the Enemy) is a large photographic compendium containing over 415 clear B&W photos of surface ships, U-boats, E-boats, naval operations, shipyards, and of the daily life and duty aboard the different units of the Kriegsmarine during the 1939-1940 period. Grand Admiral Raeder himself gave this book his Imprimatur. Although this book contains a certain amount of propaganda and OKW press releases, which by themselves are of genuine and important historical and scholarly interest, the main body of the book consists of an extensive collection of Kriegsmarine action photos (PK-Photos) that include many battle photos, mine operations, transport of ground troops, sinking of merchantmen, and photos of naval officers of the time going about their regular duties, such as Lütjens, Dönitz, Schmundt, Prien and many others. The most famous German naval actions of the first two years of the war, as seen from point of view of the Kriegsmarine are recorded: the naval bombardment of the Westerplatte near Danzig by the old battleship Schleswig-Holstein on 1 September 1939, Operations Weserübung and Juno - the invasion of Norway and combat in the North Atlantic, destroyer engagements in Narvik Fjord, Scharnhorst in action, etc. It also contains the Preamble and the 24 Articles of the Armistice Treaty signed by France and Germany on 25 June 1940; furthermore, the book contains the decrees for the establishment and awarding of several Kriegsmarine medals such as the U- and E-boat badges, the Narvik badge, and mine warfare badge as well as brief essays on mine and torpedo warfare, and on U-and E-boat missions. Students of naval history, and of the Kriegsmarine of the Third Reich, in particular, will find this book an incomparable pictorial reference that is truly a remarkable contemporary, primary resource document of the Kriegsmarine in action during 1939-1940, rather than being a product of a secondary post-war study of that part of naval history.
Sample pages (from the original book).




E-book: Kriegsmarine am Feind
Translated in English for the first time ever, this electronic publication is a modern reprint in PDF format of Kriegsmarine am Feind. It prints 252 pages, and includes both the original German and its English translation, plus new explanatory notes. To purchase this e-book click below on the PayPal icon according to your currency.
* As soon as we receive notice from PayPal that purchase is made, you will receive download instructions by e-mail. This usually takes between 24-48 hours. Make sure you provide a valid e-mail address otherwise we won't be able to contact you back.

Copyright © 1998-2023 KBismarck.com