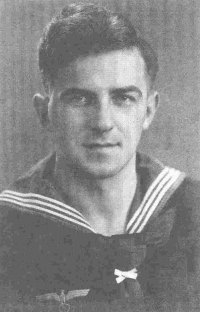 Maschinenobergefreiter Bruno Rzonca
(1918-2004)

---
Read more about
Bruno Rzonca here
Born: 19 May, 1918 in Marienwerder, East Prussia.

Died: 23 July, 2004 in Crown Point, Indiana, USA.

Age (at the time of Bismarck's sinking): 23.

Rank (at the time of Bismarck's sinking): Maschinenobergefreiter.

Position (at the time of Bismarck's sinking): Air compressors, catapult.

Additional notes: In the early days of World War II Bruno Rzonca served aboard the light cruiser Karlsruhe. At 1900 hours on 9 April, 1940, the Karlsruhe was torpedoed by the British submarine Truant off Kristiansand (Norway). The cruiser suffered major damage and had to be sunk later by the German torpedo boat Greif. For his work below decks in the boiler room Bruno Rzonca was awarded the Iron Cross Second Class. After the Norwegian campaign, Rzonca was assigned to the battleship Bismarck. Following the sinking of the Bismarck on 27 May 1941, Bruno Rzonca was rescued by the British cruiser Dorsetshire and then spent 6 ½ years in prisoner of war camps first in England and then in Canada. He was released in 1947 and returned to Germany where he got married. In 1952, Rzonca came to St. Louis and worked in a shop, before moving to Gary, Indiana. He then worked at Blaw Knox Co. and retired as a machinist in 1982. Bruno Rzonca was the only Bismarck survivor who lived in the United States.