BISMARCK'S DESIGN
Historical Background.
The Treaty of Versailles of 1919, stated in its Article 181 that the German naval forces in commission could not exceed six battleships, six light cruisers, twelve destroyers and twelve torpedo boats. In addition, article 190 limited the displacement of capital ships to 10,000 tons and allowed their replacement when they were twenty years old.
In order to limit naval construction and prevent a new arms race, on 6 February 1922, the United States, the British Empire, France, Italy and Japan, signed the Washington Naval Treaty. Under the terms of this treaty, the five major naval powers agreed to limit the standard displacement of their capital ships to 35,000 tons (35,560 metric tons), and the calibre of their heavy guns to 16 inches (40.6 cm). The total capital ship standard tonnage was distributed as follows:
United States 525,000 tons (533,400 mt).
British Empire 525,000 tons (533,400 mt).
Japan 315,000 tons (320,040 mt).
France 175,000 tons (177,800 mt).
Italy 175,000 tons (177,800 mt).

Germany was of course under her own different set of naval restrictions, and it was not until 1927 that discussions began within the German Navy regarding the new construction of capital ships as replacements. Two main alternatives were contemplated: a well protected and slow ship of the monitor type, or a faster but less protected and moderately armed ship with greater versatility. The decision fell in favour of the latter, a cruiser-like type with a main battery of six 28-cm guns in two triple turrets, and a speed of 26 knots. This new "armoured ship" (Panzerschiff) would still be slower than the 10,000-ton heavy cruisers of foreign navies but its firepower, protection and range (due to its diesel engines) would be superior to them. Stronger enemy battleships on the other hand would be slower. Construction of Panzerschiff "A" (later Deutschland) was finally approved by the Reichstag and the keel of the new ship laid down at Deutsche Werke, Kiel, on 5 February 1929. This would be followed by Panzerschiff "B" (later Admiral Scheer) and Panzerschiff "C" (later Admiral Graf Spee) which were laid down in 1931 and 1932 respectively.
In the meantime, the 52-year old Vice-Admiral Erich Raeder had been promoted to Admiral on 1 October 1928, and named the Commander-in-Chief of the Reichsmarine. Abroad, a new naval conference was held in London between January and April 1930 intended to review the Washington Naval Treaty, but France and Italy refused to ratify it because of the low battleship tonnage ratios they were assigned.
France's response to the German Panzerschiff was the building of the 26,500-ton Dunkerque and Strasbourg whose work began in 1932. The new French battlecruisers would have a top speed of 30 knots and were to be armed with eight 33-cm guns mounted in two quadruple turrets located forward, thus outclassing the German ships.
Adolf Hitler Comes to Power.
On 30 January 1933, Adolf Hitler became the new chancellor of Germany. In their first conference, Hitler told Admiral Raeder that the role of the German Navy lay within the framework of its responsibilities toward European continental policy, and that he did not want to have war with England, Italy, or Japan. Since the Russian Navy was by then of little significance, that left France as the only European power that could become a possible opponent. At this time, German naval shipbuilding was still restricted by the Treaty of Versailles, however, Hitler hoped to reach an agreement with England soon that would allow a further expansion of the navy.
In December 1933, Hitler gave his approval for a fourth Panzerschiff followed by a fifth soon afterwards. In order to match the French battlecruisers, the new Panzerschiffe were to be considerably larger and more heavily armoured that the previous three units, but they would retain two 28-cm triple turrets. Panzerschiff "D" and "E" were laid down on 14 February 1934 at Kriegsmarinewerft, Wilhelmshaven and Deutsche Werke, Kiel respectively. Raeder wanted to add a third turret, but Hitler rejected the idea to avoid upsetting the British since he was already preparing the ground for a new naval treaty to be signed next year. Things changed on 27 June 1934, when Hitler finally allowed Raeder to add a third turret to the new ships but refusing any calibre increase. This decision made it necessary to enlarge the hulls that had to be designed again from scratch. Therefore, current construction work was immediately halted and the slipways cleared. Construction was delayed for about a year.
Meanwhile, the Italians further increased tensions when they decided to build two 35,000-ton battleships as a response to the French Dunkerque. The Vittorio Veneto and Littorio were laid down in October 1934 and their main armament was to consist of nine 38-cm guns mounted in three triple turrets.
In Germany, the Naval Construction Office (Marinekonstruktionsamt) first began to consider the planning of a 35,000-ton ship in early 1934. The initial preliminary design presented for Panzerschiff "F" in the spring was based on the following requirements:
Standard displacement:
Main battery:
Secondary battery:
Heavy Anti-aircraft battery:
Armour:
Main belt:
Side armour bow/stern:
Upper deck:
Armour deck flat:
Armour deck slopes:
Main battery barbettes:
Secondary battery barbettes:
Conning tower:
Torpedo bulkhead:
Splinter longitudinal bulkhead:
35,000 tons
8 x 33-cm guns
12 x 15-cm guns
16 x 10.5-cm guns

350 mm
150 mm
50 mm
100 mm
120 mm
350 mm
150 mm
400 mm
60 mm
60 mm
It was soon realized that the displacement required would be exceeded with the given armour values. Therefore, the thickness had to be reduced in order to stay within the 35,000-ton limit. Maximum speed was set to 29 knots. In January 1935, however, Raeder gave preference to a design with eight 35-cm guns.
The Anglo-German Naval Agreement.
New political events were soon to affect the future of German naval construction. On 16 March 1935, Hitler rejected the armament limitations of the Versailles Treaty by announcing an expansion of the German army, as well as creating a new Air Force (Luftwaffe) and increasing the size of the Navy, that was to be renamed as the Kriegsmarine. Britain, France, Italy, and the League of Nations condemned this, but apart from a protest did nothing else. However, Hitler's unilateral action precipitated a series of negotiations that ended when, on 18 June 1935, Britain's Foreign Minister Sir Samuel Hoare and the German Ambassador Joachim von Ribbentrop signed the Anglo-German Naval Agreement in London, formally lifting the restrictions of the Treaty of Versailles.
As a result, Germany was then allowed to build a surface fleet of up to 35 per cent of that of Britain, and up to 45 per cent in the case of submarines. This meant that Germany could now build 183,000 tons of battleships, in other words five 35,000-ton battleships. Schlachtschiff "D" (later Scharnhorst) and "E" (later Gneisenau), now labelled as battleships, had been finally laid down after much delay on 15 June and 6 May 1935 respectively, and publicly announced as 26,000-ton ships in July after the Anglo-German Naval Agreement was signed. These battleships would be armed with nine 28-cm guns in three turrets.
Back to the Panzerschiff "F" design, after Hitler denounced the Versailles Treaty in March, the possibility of arming the ship with 38-cm guns began to be seriously considered even if that meant an increase of the ship's displacement. Several studies were considered:
Armour

8 x 35 cm

8 x 38 cm

Required

Reduced

Required

Reduced

Main belt
Side armour bow
Side armour stern
Main battery barbettes
Secondary battery barbettes
Conning tower
Torpedo bulkhead
Splinter longitudinal bulkhead
Armour deck slopes
Armour deck flat
Armour deck over magazines
Armour deck over rudders
Upper deck
Outer skin above armoured belt
320 mm
70 mm
90 mm
320 mm
150 mm
350 mm
45 mm
40 mm
120 mm
100 mm
100 mm
100 mm
50 mm
35 mm
290 mm
70 mm
80 mm
290 mm
125 mm
350 mm
45 mm
40 mm
95 mm
60 mm
90 mm
85 mm
45 mm
30 mm
320 mm
70 mm
90 mm
320 mm
150 mm
350 mm
45 mm
40 mm
120 mm
100 mm
100 mm
100 mm
50 mm
35 mm
260 mm
70 mm
80 mm
255 mm
125 mm
350 mm
45 mm
35 mm
95 mm
60 mm
90 mm
85 mm
45 mm
30 mm
Displacement
Draft
Waterline length
Beam
Speed
41,000 tons
9.25 m
243 m
36 m
27-28 knots
39,000 tons
8.80 m
243 m
36 m
28 knots
43,000 tons
9.40 m
250 m
36 m
27-28 knots
39,800 tons
8.80 m
250 m
36 m
28 knots
In 1935, France granted contracts for two 35,000-ton battleships designed in response to the newest Italian ships, and also to be armed with 38-cm guns. The lead ship, Richelieu, was laid down in October 1935. This decisively influenced the final German decision to arm their new battleships with 38-cm guns as well. The main battery configuration would follow the traditional arrangement of four twin turrets, two forward and two aft.
The Bismarck Class.
As we have seen, the battleships of the Bismarck Class were the product of a warship development that had begun with the construction of the so-called "pocket battleships" (Panzerschiffe) of the Deutschland Class in the late 20's and early 30's under the restrictions of the Treaty of Versailles.1)
Five months after the signing of the Anglo-German Naval Agreement, the Battleship "F" Ersatz Hannover (later Bismarck) was officially ordered and the building contract placed on 16 November 1935 with the shipbuilding firm Blohm & Voss based in Hamburg. Blohm & Voss had been founded by Hermann Blohm and Ernst Voss back in 1877, and was now run by the brothers Rudolf and Walther Blohm. The building contract for Battleship "G" Ersatz Schleswig-Holstein (later Tirpitz) was placed with the Kriegsmarine Werft shipyard in Wilhelmshaven where the battleship Scharnhorst was still under construction at the time. The design team at the Naval Construction Office was headed by Ministerialrat Hermann Burkhardt.
Between December 1935 and March 1936 the five major naval powers met again in London. Japan withdrew from the conference since her demands for parity with the United States and the British Empire in capital ship tonnage were not met. So, an escalator clause was added that allowed to build battleships of up to 45,000 tons in case a non-signatory power was suspected of building ships outside the treaty limits. Since Italy and Japan did not sign the Treaty, the standard displacement of 45,000 tons was later to be accepted by the other powers including Germany.
Battleships "F" and "G" were basically improved versions of the battleships "D" and "E", and featured many of the details of their predecessors. The Bismarck looked like an enlarged Scharnhorst indeed. Officially listed as a 35,000-ton battleship to comply with the London Treaty, Bismarck's real displacement would actually reach 41,700 tons (42,343 metric tons). According to the escalator clause this was well within the 45,000-ton limit, however the said clause was not to enter into force until 30 June 1938. In any case, none of the other naval powers kept themselves inside the 35,000-ton limit either, and all the battleships that came out of the 1936 London Treaty (Vittorio Veneto, Richelieu, King George V, and North Carolina) exceeded this limit.
Special care was put to the stability, and the ship was given a very wide beam of 36 metres. One of the most outstanding characteristics of the new Bismarck Class was its superb capability to absorb damage due to the large protected volume. In fact the armoured citadel represented 70% of the ship's length. The internal compartmentation was very extensive as well. The lower main belt remained 320 mm thick as in the Scharnhorst Class. A 320-mm belt backed by a 110-120 mm sloped armour deck was considered more than enough to defeat any projectile at any distance, and made the battleship practically immune in close range engagements. However, the upper belt was increased in thickness up to 145 mm and had no portholes. Underwater, the thickness of the torpedo bulkhead remained the same, but the distance between this and the outer hull was increased from 4.5 to 5.4 metres amidships.
The new design had to be longer due to the inclusion of the fourth main battery turret. Although 40.6-cm guns were permitted by the 1936 London Naval Treaty, the new and powerful 38 cm SK C/34 with a high muzzle velocity was considered more than adequate to fulfil its purposes. Germany did not have 40.6-cm guns available at that time anyway. The secondary artillery was to be the same as in the Scharnhorst Class, however the use of single turrets amidships was abandoned in favour of twins.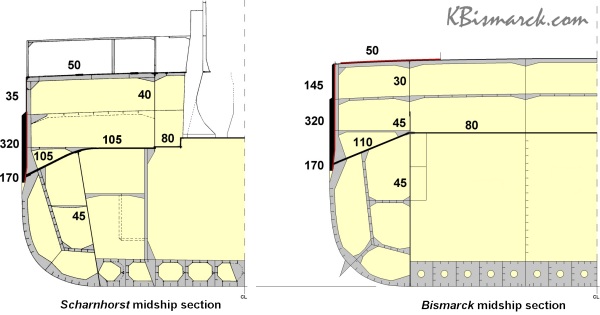 DESIGN DETAILS
Scharnhorst

Bismarck

Displacement:
· Official:
· Standard:
· Full load:


26,420 mt
32,060 mt
38,430 mt


35,560 mt
42,343 mt
50,955 mt

Dimensions:
· Waterline length:
· Beam:
· Draught:
· Depth:


226.00 meters
30.00 meters
8.67 meters
14.05 meters


241.55 meters
36.00 meters
9.33 meters
15.00 meters

Armour protection:
· Upper belt:
· Lower main belt:
· Main turrets:
· Upper deck:
· Third armour deck:
· Conning tower:
· Torpedo bulkhead:
· Protected length:
· Sections within citadel:


35 mm
320 mm (4.5 meters wide)
100-340 mm
50 mm
80-105 mm
200-350 mm
45 mm (10º inclined)
68% (153 meters)
16 out of 21


145 mm
320 mm (4.8 meters wide)
130-360 mm
50 mm
80-120 mm
220-350 mm
45 mm (vertical)
70% (170.7 meters)
17 out of 22

Armament:
· Main:
· Secondary:
· Anti-aircraft:


9 x 28cm/L54.5
12 x 15cm/L55
14 x 10.5cm/L65
16 x 3.7cm/L83
14 x 2cm


8 x 38cm/L52
12 x 15cm/L55
16 x 10.5cm/L65
16 x 3.7cm/L83
18 x 2cm

Propulsion plant:

12 Wagner boilers in 3 rooms
Three turbine sets
125,000 hp

12 Wagner boilers in 6 rooms
Three turbine sets
138,000 hp

Speed:

31 knots

29 knots

Endurance:

7,100 nm at 19 knots

8,525 nm at 19 knots

Fuel capacity:

6,108 metric tons

7,461 metric tons

Aircraft:

3 x Arado Ar 196

4 x Arado Ar 196

Crew:

1,900

2,065
---
1) Contrary to what some authors have suggested, the origin of the design of the Bismarck Class battleships had nothing to do at all with the Bayern Class of the First World War except for the fact that they were also equipped with eight 38-cm guns in four twin turrets and a three-shaft propulsion plant.

Copyright © 1998-2021 KBismarck.com