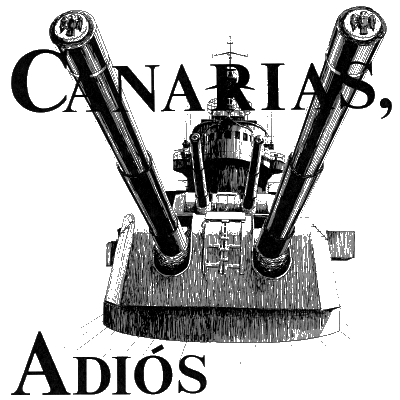 Part II
By Willard C. Frank, Jr.
This article was originally published in Warship International No. 2, 1979 and is reproduced here by their kind permission.
III. Wartime Operations and Refits, 1936-1939.
1. Preparing for War.
When the military revolt against the leftist Republic began on 17 July 1936, Canarias and Baleares were fitting out in the naval dockyard at El Ferrol. Fighting erupted in the naval base on 20 July, but by the 22nd naval officers and army units had gained the upper hand against sailors and workmen. The situation, though, was not promising.
The beleagured Republic was at first dazed and could not find the key to political unity, but most of the Spanish Navy had fallen to Republican sailors. The major portion of this force, a battleship, two cruisers, and a variety of destroyers and submarines, converged on the Straits of Gibraltar to blockade the cream of the rebel arrny under General Franco in Spanish Morocco. Franco and the rebel naval chief, Captain Francisco Moreno, knew that if the blockade could be broken quickly, the waiting army could cross to Spain, march on Madrid, and overthrow the regime before it could react. Were the army forced to remain in its dusty African bivouacs, the Republic would have the time to pull itself together and thus would stand a good chance of crushing the rebellion.
The part of the navy in rebel, or Nationalist, hands included only one light cruiser and one destroyer fit for sea, a force completely inadequate to break the blockade. When completed, the Canarias and Baleares would be the most powerful units on either side; on them rested Nationalist hopes.
Serious obstacles prevented early employment of the new cruisers. A large proportion of the pre-commissioning crews, including almost all of the skilled petty officers, were purged for leftist sympathies. Falangist volunteers filled the empty billets, but political enthusiasm could not quickly compensate for technical ignorance and lack of training.
Just as serious was the material state of unreadiness. Guns and ammunition lay in Republican controlled or enveloped territory. Fire control equipment could not be imported. A wide variety of critical parts remained undelivered. The electrical system was incomplete.
Canarias was further than her sister toward completion, so the first priority was to put her in commission. Captain Moreno and the new commanding officer, Captain Francisco Bastarreche, readied the ship in a most efficient and creative manner. The raw recruits went through crash training courses. Officers scoured ports for trained seamen. A RDF replaced the fore topmast. The old battleships España lent four 101.6mm surface guns from her casemate battery with only a 3-mile range and two even more ancient Nordenfelt 57mm pieces; Canarias mounted them where antiaircraft guns should have been. A junior officer solved the fire control problem by ingeniously rigging a Vickers system from a 152.4mm coastal battery and modifying it for seabome use. A Henderson gyroscopic apparatus came from the Portuguese Navy at the last moment. A separate and very rudimentary apparatus provided some anti-aircraft fire control for the ponderous main battery, the only air protection available, and not very reassuring. Italy and Germany received requests for the needed anti-aircraft guns and other equipment, but they were slow in responding, and the war would not wait.
While the Republican Navy patrolled the Straits, ashore workers' militia units sprang up on every side to prepare for an onslaught. In August and September, Republican aircraft made five raids on El Ferrol in hopes of incapacitating the new cruisers, but damage and casualties were light.
By September hard labor was bringing results. Also ammunition began to arrive. Moreno chose Canarias as his flagship, and the staff reported aboard on 4 September. On the 14th she entered drydock so that political prisoners could clean her bottom, and on the 18th she put to sea for a four-day shakedown cruise. Except for heavy seas which incapacitated her seasick landlubber crew, all went well. She returned minimally ready, or as ready as Moreno and Bastarreche could make her, for a war cruise.
2. The Turning Point at Sea, 29 November 1936.
Opportunity opened for the Nationalists when the Republican Navy made a strategic blunder and deployed the main body of its fleet in the Bay of Biscay where it could do little good, leaving the Straits to be guarded only by patrolling destroyers. Moreno, encouraged by Franco, decided to sortie with Canarias and the cruiser Almirante Cervera to open the Straits while the Republican main body remained in impotent isolation. They sailed under radio silence on the 27th, held last-minute gunnery exercises on the way, and approached the Straits during the night of 28-29 September. A misty dawn began to break as two unsuspecting Republican destroyers went about their patrols. First, Almirante Cervera caught the Gravina, which, though wounded, wiggled free.
Shortly Canarias lookouts spotted a shape on the horizon off the starboard bow. Moreno went in pursuit, guessing that she was a patrolling destroyer. She was the Almirante Ferrándiz, maneuvering to escape. Canarias opened fire at 0640 at a range of eleven miles. The hurried training and the jury rigged fire control system paid off. The second salvo hit the destroyer's after superstructure, destroying the gun mounts and setting a bright fire. She had trained her torpedo tubes and was preparing to fire, but exploding ammunition drove the torpedomen from their mounts. Almirante Ferrándiz began to make a smoke screen and zigzag evasively, but Canarias had found the range and her turrets followed the Republican's every move. Shells repeatedly slammed into the luckless destroyer. Republican radiomen called for help, but none came. At 0705 Canarias came around to parallel the enemy and bring the after turrets to bear. They scored more hits. By 0720 Almirante Ferrándiz was a mass of flames. As Canarias closed the hulk, a series of violent explosions put an end to the destroyer's miseries. Canarias was not even nicked. The encounter off Cape Spartel was over; only bits of debris and an oil slick marked where Almirante Ferrándiz had gone down. It also marked the end of Republican naval supremacy. Canarias had just won her most significant victory at the very beginning of her career.10
Until this point a slow airlift and a few furtive dashes across the Straits had dribbled rebel troops into Spain. Now Canarias and other ships, their decks packed, safely convoyed 8,000 men within a few days, fresh for an assault on Madrid. By the time they reached the capital, the Republicans were ready, and the Spanish Civil War lasted another two and a half years.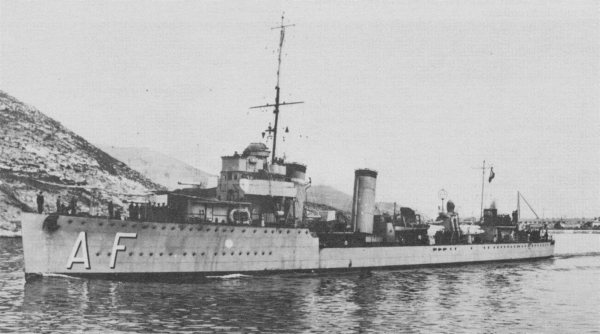 Destroyer Almirante Ferrándiz proceeding to sea from her Cartagena birthplace and homeport shortly before the outbreak of the Spanish Civil War. She and her 13 sisters were 2,120 ton fleet destroyers, armed with 5 x 120mm guns and 6 x 21 in. torpedo tubes. They could make up 36 kts., Canarias gunners were too quick for the undisciplined crew of Almirante Ferrándiz. Photo: Servicio de Información, Departamento Marítimo de Cartagena.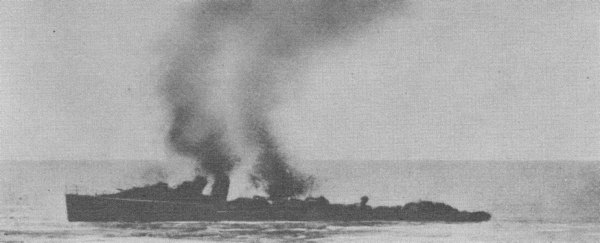 The burning wreck of Almirante Ferrándiz just before she exploded, just after dawn on 29 September 1936. The destruction of Republican sea power in the Strait of Gibraltar was Canarias' greatest victory. Photo: Mariners Museum, Newport News, Va.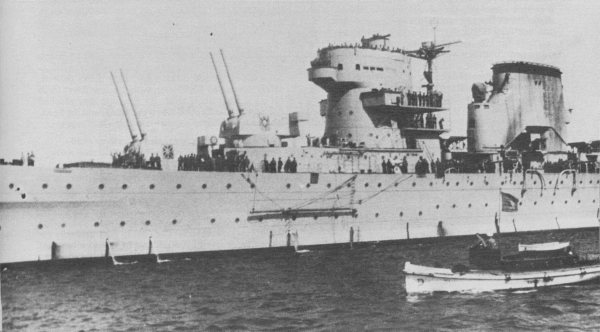 Canarias in Ceuta preparing to convoy troops to Spain, 30 September 1936, the day after the Encounter off Cape Spartel. Her main battery guns are at maximum elevation. The two old 101.6mm guns borrowed from the battleship España are visible in line with funnel uptakes. The jury rigged rangefinder crowns the bridge. She has yet to adopt a funnel band. Note patriotic gunhouse markings. Photo: Ministerio de Información y Turismo [MIT].
3. Mediterranean Operations, October 1936-February 1937.
Moreno had originally planned to return to El Ferrol after breaking the blockade, but encountering no serious opposition, he kept his cruisers in Gibraltar-Mediterranean waters, operating out of Cádiz. Canarias and Almirante Cervera bombarded Republican coastal installations, escorted convoys, and raided Republican commerce. The enemy fteet belatedly returned from the Bay of Biscay in mid-October, but sought only to protect its own convoys coming from the Soviet Union and did not seek an encounter. In performing her missions, Canarias occasionally ran into a Republican destroyer or submarine, but she was unable to nail any.
Canarias ranged the Republican coast several times during the autumn, even as far as the Gulf of Rosas, 600 miles from her Cádiz base. Tank farms went up in flames and port facilities were damaged. Railroad lines and bridges received hits. But the greatest effect was to keep the enemy off balance, to elicit fears of invasion, and to force the Republic to expend considerable energies on coast defense. During January-February 1937, in consort with the newly commissioned Baleares, Canarias directly supported ground operations against Málaga with her heavy artillery, helping to keep Republican defenses and communications in disarray, and thus facilitating the Nationalist-Italian capture of the city on 8 February. These bombardments, all utilizing full charges, the only ones available, reduced the life of the main guns. After 200 rounds, they had to be relined.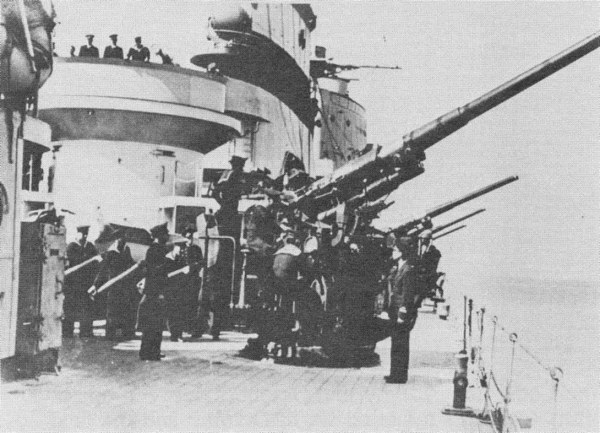 Gun crew in dress uniform showing off its 120mm gun for the camera.
Note rangefinder on platform above. Photo: MIT.
Canarias escorted numerous convoys from Spanish Morocco, and kept open communications with the Nationalist island of Mallorca, a dangerous route skirting the Republican naval base of Cartagena. Every convoy Canarias escorted arrived safely.
Nationalist cruisers engaged in a war on commerce much as traditional cruiser strategy outlined. They found many opportunities along the Republic's coastal routes and more lucrative targets on the Republican life-line with the Soviet Union. Ships caught with military cargoes bound for Republican parts were detained. Cargoes, and the ships themselves at times, were confiscated. Canarias went beyond this pattern and on 14 December caused an international incident by sinking a Soviet freighter.
The Soviet motorship Komsomol had made several voyages with war material. Canarias, tipped off by an ltalian warship, caught her alone on the open sea southeast of Cartagena. The Russian captain cIaimed only to be carrying ore to Belgium, but with darkness coming on there was not time to examine the cargo and a great risk of a night-time escape. Moreno, remembering the ship's past behavior, decided to sink the Komsomol, international law notwithstanding. Canarias took the crew of 36 on board, leaving behind three kittens to romp on deck and a cargo which has yet to be verified. Russian sailors watched as shells slammed into their ship, setting the fuel tanks afire. She burned for a long time before sliding beneath the flat sea, the Soviet flag still flying. This drastic measure had its effect, for Soviet aid soon declined, and then would only be delivered in Spanish ships.
By the end of 1936 the Canarias had steamed 22,430 miles and had spent more time at sea than in port. Her crew were landlubbers no more.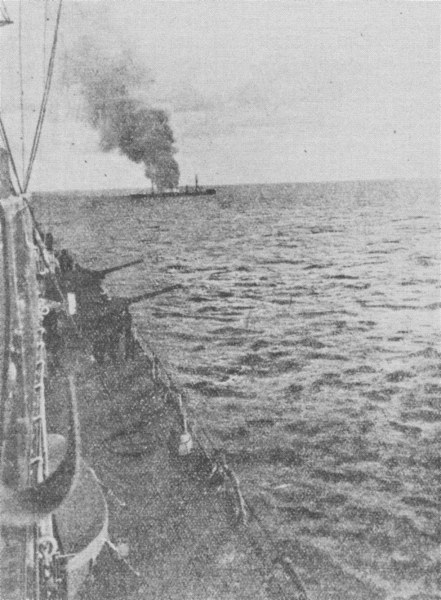 The Soviet Motorship Komsomol (5,109 tons) on fire from Canarias' guns, 14 December 1936. Note empty deck space in foreground, Canarias has yet to mount all her 120mm guns, two of which are visible. Photo: Pardo, Cuando el mar no era un camino.
4. Modifications and Repairs, October 1936-1939.
Throughout the months of operations, yard technicians and workmen kept busily at the task of completing their work, even while Canarias was at sea.
The factory producing the 120mm anti-aircraft guns, now secure from civil war, delivered the weapons to the Cádiz quayside by mid-October. Between operations Canarias mounted six in October and the final two in February 1937. German deliveries came in October 1936: two 37mm double anti-aircraft mounts and three 20mm AA guns. Her 1937-39 configuration had single 20mm guns on platforms before and after the stack on either side. The 37mm guns flanked the after rangefinder. The 57mm mountings remained abreast the bridge. The temporary 101mm guns were now discarded. Canarias had to wait two years, however, for adequate fire control.
Captain Salvador Moreno, the commander-in-chief's brother, relieved Bastarreche as commanding officer on 12 February 1937. The next day Canarias set out, in company with Baleares and Almirante Cervera, through the fog-bound Straits when the 4,181-ton Greek freighter Meropi suddenly appeared close aboard out of nowhere. There was no time to react. The stranger's bow screeched along Canarias' starboard quarter. The freighter's anchor, acting as a can opener, ripped apart the cruiser's side. It was not an auspicious beginning for the new captain.
Canarias retumed to Cádiz where structural repairs immediately began. Admiral Moreno transferred his flag to Baleares, for a severe vibration in Canarias' starboard outboard shaft required that the turbine be shut down. The ship had to be docked in El Ferrol, where after an extensive examination and disassembly of the shaft, the trouble was corrected.
There were other problems. Brass condenser tubes had a very short life and had to be replaced by copper-nickel ones. The tail shafts corroded easily and soon needed replacement. There was much to do when Canarias enjoyed her first full overhaul in May 1937. Others would come in April and November 1938. There would be much steaming in between.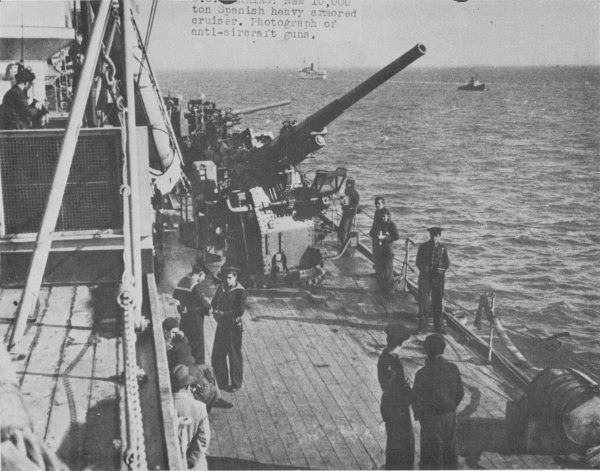 View of the 120mm DP gun battery, ca. 1937. Courtesy C. W. Beilstein Collection.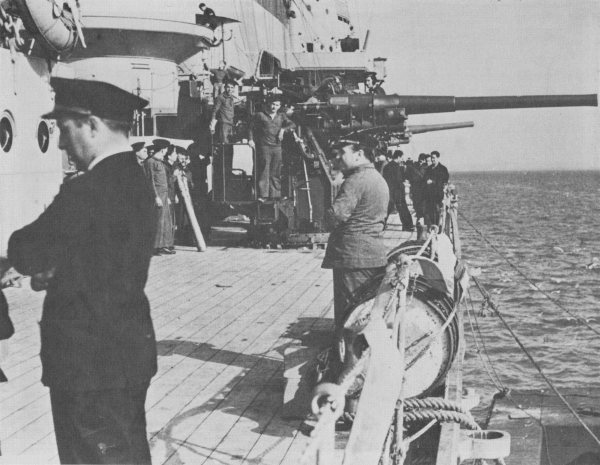 Another view of 120mm DP guns, ca. 1937. Courtesy C. W. Beilstein Collection.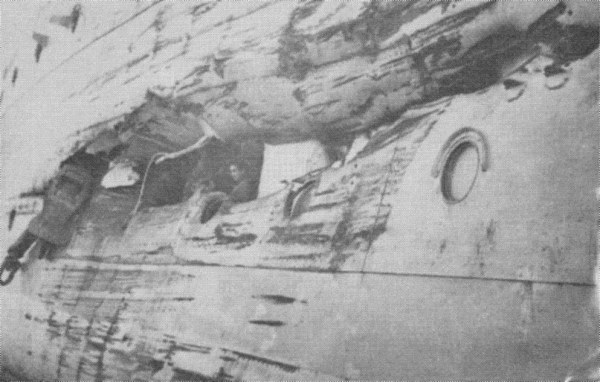 A Canarias sailor standing on the lower deck peering through the 7m gash made by the Greek freighter Meropi, 13 February 1937. Canarias was making 20 kts. in the fog-bound straits at dusk when the Meropi suddenly loomed at 20 yds. Note the freighter's anchor.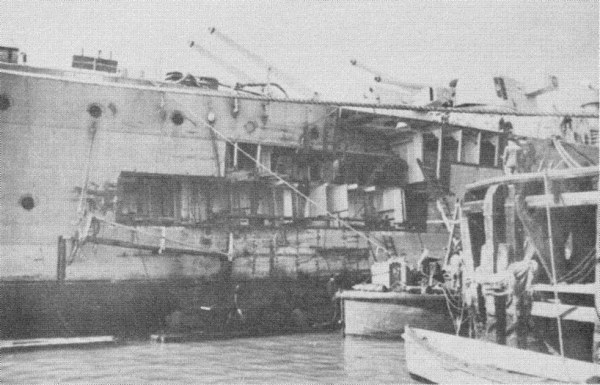 Structural repairs underway at Cadiz from the collision damage of 13 February. The ship's framing is visible. The more serious problem lay underwater; a damaged shaft. Photos GF.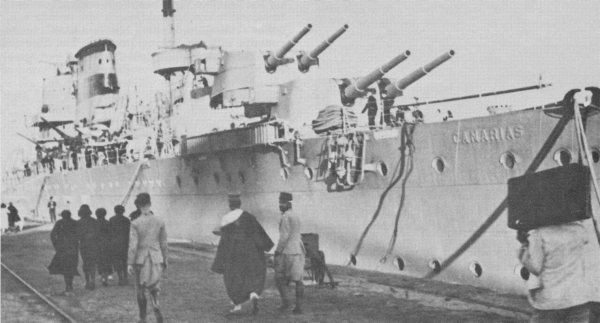 Canarias alongside a pier at Cadiz. Courtesy C. W. Beilstein Collection. This photograph may well have been taken during 1936-37 when the ship is known to have been based here.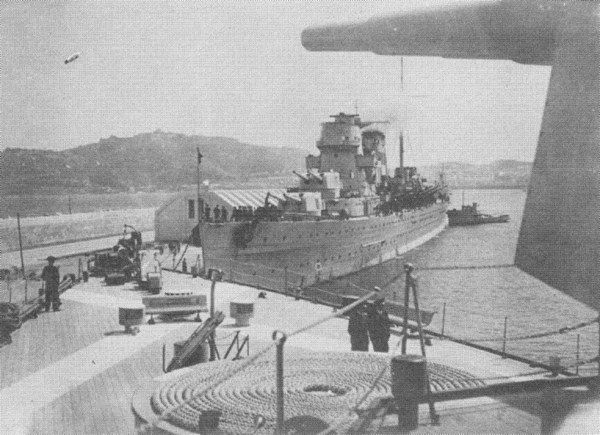 Canarias just having moored at her berth in Ceuta in early 1937, as seen from Baleares. The Flemished line occupies the spot where turret four will be installed in June. The two depth charge mortars and the stern rack are visible. The mortars fire to either beam. The white cross is for air recognition. Note benches. Photo: MIT.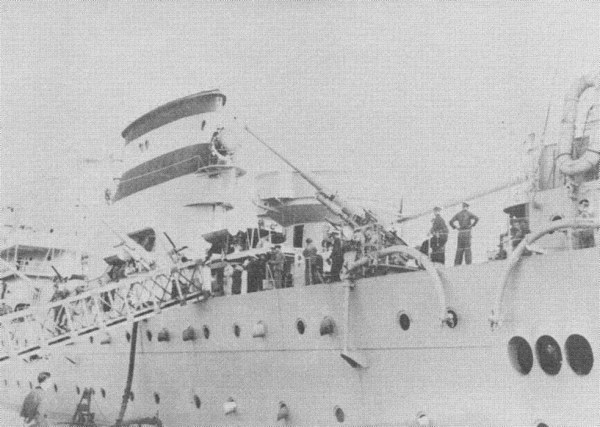 Wartime shot of Canarias. Note air scoops in portholes, face in torpedo port. The in-and-out plating is visible. Photo: MIT.
5. Biscay Operations, March 1937.
Collision repairs completed, Canarias received orders to make for the Bay of Biscay to intercept two freighters known to be on their way to Republican ports with war material. The first was Galdames, under escort from France. Canarias sighted her on 5 March trying to reach the protection of defensive minefields off Bilbao. The Basque Republican patrol boats, Nabara and Guipuzkoa, intervened to save their charge. They were no match, but Basque gunners succeeded in hitting the cruiser and killing one midshipman before Nabara succumbed to heavy caliber fire. Guipuzkoa escaped, heavily damaged. Shore batteries unsuccessfully tried to keep the Canarias off, and Galdames surrendered as a prize.
The more significant prey was the motorship Mar Cantábrico, proceeding unescorted and with publicity from the United States and Mexico, loaded with arms. Captain Moreno patrolled her probable route for three days, capturing other merchant ships in the process. At noon on the 8th, a heavily laden motorship came over the horizon disguised as a British vessel. The ruse did not work, though Moreno had to shell the ship before she would give in. A prize crew had to labor long to prevent the Mar Cantábrico from sinking from gun damage and exploding small arms ammunition in her holds. The Mar Cantábrico went on to become an armed merchant cruiser and command ship for the Nationalist Navy. The Nationalist field forces welcomed her cargo.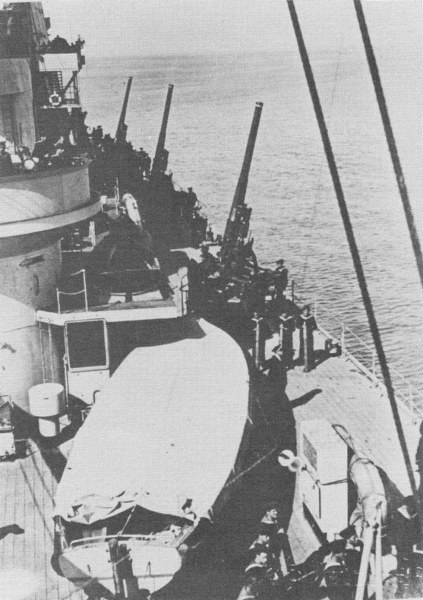 Starboard side of Canarias during the Civil War. Sailors are posing with 120mm cased ammunition. Photo: MIT.
6. Mediterranean Operations, March 1937-March 1939.
Following the capture of the Mar Cantábrico, Canarias returned to the Mediterranean where she served for the final two years of the war, engaging in operations similar to those of 1936.
She cruised the Western Mediterranean, escorting convoys with war material from Italy and raiding the Republican supply line from Russia. All her convoys reached their destinations safely. The enemy was not so fortunate, losing several independently routed vessels to the guns of Canarias.
She carried out shore bombardment missions as routine. Invasion scares continued to take their toll of Republican morale.
Captain Moreno declined night engagements with the Republican fleet, which were offered on occasion, for fear of the vulnerability of cruisers to torpedo attack. Daylight was different. In the early morning of 25 April 1937, Canarias and Baleares chased two Republican destroyers guarding the approach of a heavily escorted convoy to Cartagena. The Republicans all gained safety. These same cruisers then searched for Republican warships known to have been at sea, again without success.
In June 1937 Admiral Moreno returned his flag to Canarias, only to transfer it in October to the newly converted Mar Cantábrico, from which he masterminded the war on commerce. Captain Rafael Estrada became the new commanding officer in August.
The commerce war intensified over the summer of 1937, culminating for Canarias in the nightime capture on 18 September of the merchant ships Jaime II and J. J. Síster being escorted from Barcelona to Republican Menorca. The three escorting destroyers put up a brief resistance and escaped in the dark.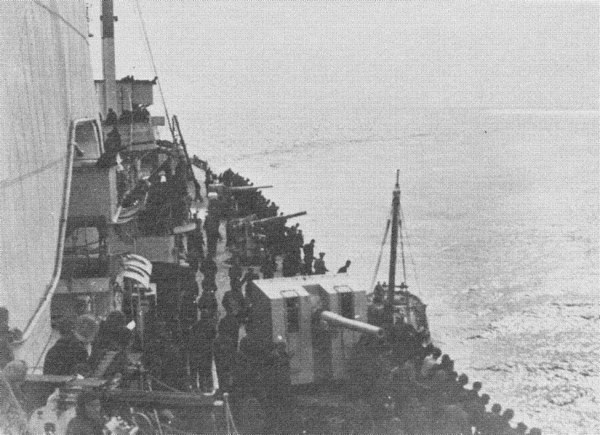 The crew of Baleares watching the capture of a Republican fishing boat. Her distinctive secondary armament is visible. A 20mm AA gun appears in the lower left. The gunhouse mounts a 120mm LA (45º) gun, while two Italian 100mm AA guns appear abaft. Photo: MIT.
Canarias was present at the only major clash between the main bodies of the two fleets, the Battle of Cape Palos on the night of 5-6 March 1938. It was a chance encounter; the Nationalists were escorting a convoy and the Republicans supporting a raid by Soviet motor torpedo boats against the harbor of Palma de Mallorca. Republican shells and torpedoes, using the gunflashes and searchlights of Baleares as a target, found their mark. A massive explosion of her forward magazines, followed by her boilers or midships magazine, demolished the fore end of the ship. The force of the explosion shook down the mainmast which fell on her after turrets still trained on the enemy. Canarias, next astern, came right quickly to avoid a collision with the wreck, sinking rapidly by the head. In the confusion the two fleets separated in the darkness never to sight each other again. British destroyers patrolling in the vicinity rescued survivors, transferring them the next day by whaleboat to the Canarias. Soviet bombers, thinking all the ships Spanish, bombed the transfer operation from a high altitude while the ships lay dead in the water. The pilots only achieved near misses.


Baleares in full war trim with her sistership appearing astern. She can be distinguished by her funnel cap and a larger command bridge. Photo: GF.
Canarias, under the command of Captain Ramón Agacino, engaged in one more fight. The Republican destroyer José Luis Díez, a veteran of the Biscay campaign, completed repairs in Le Havre in August 1938. The Republican command at first thought of sending her to Murmansk to await orders, but finally decided to have her dash through the Straits past the Nationalist patrol off Gibraltar and join the fleet at Cartagena. She made the run during the night of 27 August and found Canarias waiting. Unconvinced by her British markings, Agacino opened fire and seriously damaged the destroyer. The Republican commanding officer ordered a torpedo salvo, but the demoralized torpedomen did not respond. José Luis Díez barely managed to make it to the safety of the British jurisdictional waters of Gibraltar.
The Spanish Republic, without sufficient help from abroad or unity at home, slowly lost its will to continue. The Nationalist Navy, now more than a match for the opposing fleet, held an impressive naval review on 22 February 1939. Canarias led the procession filing past Generalissimo Franco taking the salute in the armed merchant cruiser Mar Negro.
In March, the Nationalist command, taking advantage of an uprising in Cartagena, embarked on an amphibious operation against the naval port. Canarias participated in the support group. The rising failed and harbor defense batteries caused me loss of one laden troopship. Moreno called the operation off, and Canarias never fired her guns in fratricidal combat again. The defeated squadron interned itself in Bizerte as the war wound down. On 1 April 1939 it was all over. Canarias proudly steamed into the fallen bastion of the Republican Navy and claimed the victory. Her 175 war sorties had earned Canarias the honor.


Cruisers Canarias (1937) and Baleares (1938). Drawings by Manuel P. González López.


CONFIRMED LOSSES ATTRIBUTABLE TO THE CANARIAS 1936-1939
Name
Flag
Type
Fate
Date
Almirante Ferrándiz
San Antonio
Iñake
Marinero Canté
Manuel
Ciudadela
Sac 4º
Chubar
Komsomol
Campuzano
Aya-Mendi
Joven Amalia
Joven Antonia
Galdames
Nabara
[name unknown]
Itxas-Gain
Zerupe
Miguel perales
Mar Cantábrico
Juan José
La Primera
Pedro
Siete Hermanos
Gloria
Rey Jaime II
J.J. Sister
Teide No. 1
Maria Soledad
Dolores
Ellinico Vouno
Skvortsov Stepanov
Adela
Spain
Spain
Spain
Spain
Spain
Spain
Spain
USSR
USSR
Spain
Spain
Spain
Spain
Spain
Basque Spain
Spain
Spain
Spain
Spain
Spain
Spain
Spain
Spain
Spain
Spain
Spain
Spain
Spain
Spain
Spain
Greece
USSR
Spain
destroyer
fishing vessel
cargo ship
coast guard vessel
cargo ship
cargo pass. ship
cargo ship
collier
cargo ship
tanker
cargo ship
fishing vessel
fishing vessel
cargo ship
escort vessel
fishing vessel
fishing vessel
fishing vessel
fishing vessel
cargo pass. ship
fishing vessel
fishing vessel
schooner
schooner
fishing vessel
cargo ship
cargo ship
fishing vessel
fishing vessel
fishing vessel
cargo ship
cargo ship
patrol vessel
sunk
sunk
captured
sunk
sunk
captured
sunk
cargo prize
sunk
captured
stranded
sunk
sunk
captured
sunk
sunk
captured
captured
captured
captured
captured
captured
sunk
sunk
sunk
captured
captured
sunk
sunk
sunk
prize
prize
captured

29 Sep. 36
12 Oct. 36
17 Oct. 36
30 Oct. 36
11 Nov. 36
12 Nov. 36
17 Nov. 36
26 Nov. 36
14 Dec. 36
8 Jan. 37
11 Jan. 37
4 Feb. 37
4 Feb. 37
5 Mar. 37
5 Mar. 37
7 Mar. 37
7 Mar. 37
7 Mar. 37
7 Mar. 37
8 Mar. 37
(spring) 37
(spring) 37
22 Jul. 37
22 Jul. 37
22 Jul. 37
17 Sep. 37
17 Sep. 37
10 Dec. 37
22 Dec. 37
22 Dec. 37
19 May 38
26 May 38
29 Jan. 39
---
Part I -

Part III
---
Footnotes.
10. The Spanish Navy on 5 August 1941 decreed an arbitrary delivery date for the Canarias as 1 October 1936. This date has been picked up by the naval annuals, but by 1 October 1936 Canarias was already a veteran and had won her most significant victory. A more useful and accurate date for "completion" would be 18 September 1936, the beginning of her shakedown cruise.
---

Copyright © 1998-2021 KBismarck.com