THE AIRCRAFT CARRIER ARK ROYAL
Compiled by José M. Rico

The Ark Royal in early 1939. View from the port quarter showing a Swordfish plane about to land.
---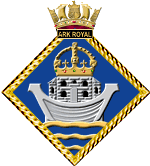 The World War II aircraft carrier Ark Royal was the third ship of her name in history, and the first to be planned and built as an aircraft carrier. She was less than three years in service with the Royal Navy, but saw a great amount of action during the first two years of World War II. A period of time in which the Ark Royal was almost permanently at sea. In September 1939, she was engaged in patrol operations in the North sea. In October she was sent to the South Atlantic to assist in the search of the Graf Spee. During the German invasion of Norway (April-June 1940), the Ark Royal was employed too. Later, she provided support during the attack against the French warships at Mers-el-Kebir, and took part in several convoy operations and air strikes against Italian bases in the Mediterranean. However, Ark Royal's most notorious action was the key role she played during the chase of the battleship Bismarck in May 1941. Her Swordfish torpedo bombers crippled the German battleship, thus allowing Admiral Tovey's force to engage and sink her. Ark Royal then resumed her operations with Force H in the Mediterranean, but on 13 November 1941 she was torpedoed and sunk by U81 near Gibraltar.
---
CAREER TIMELINE
16 September 1935: Lay down. Built by Cammell Laird Shipyard, Birkenhead.
13 April 1937: Launched on Merseyside. The Rev. W. Webb, Vicar of St. Mary's, Birkenhead, pronounces the old blessing. "May God protect this ship and all who sail on her," and Lady Maund Hoare launches her in the presence of 60,000 people. She is the third ship to bear the distinguished name. The final cost of the new Ark Royal will be £2,330,000.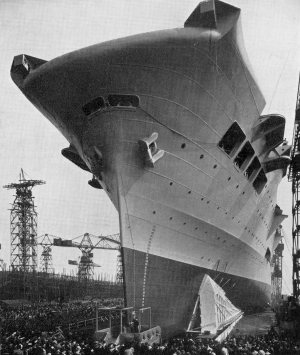 The launching of the Ark Royal on 13 April 1937.
---
16 November 1938: Commissioned under Captain (later Rear-Admiral) A. J. Power.
16 December 1938: Construction work completed.
December 1938 - January 1939: Conducts sea trials on the Clyde.
12 January 1939: Fairey Swordfish torpedo bombers of the 820 Squadron (Lieutenant-Commander A.C.G. Ermen) land on Ark Royal's flight deck for the first time.
January-March: 1939: Mayden cruise to the Mediterranean. Ark Royal enters Valetta Harbour at Malta and then continues to Alexandria where she runs exercises with carrier Glorious.
End of March 1939: Sails for home waters.
Summer 1939: In home waters.
31 August 1939: In view of the possible outbreak of hostilities, the Ark Royal puts to sea with the Home Fleet to patrol the waters between the Shetlands and Norway.
01 September 1939: One of Ark Royal's reconnaissance Swordfish makes a forced landing due to bad visibility on a Norwegian fiord and sinks. The crew was later able to ship to England before the declaration of war on 3 September.
14 September 1939: At about 0240, Ark Royal launches three Blackburn Skuas of 803 squadron to search for the recently torpedoed SS Fanad Head. Just about the same time, the Ark Royal is attacked by the U39 (Kapitänleutnant Glattes). The attack fails since the German torpedoes armed with magnetic pistols do not work properly. Thereafter, Ark Royal's escorting destroyers Faulknor, Firedrake und Foxhound force the German submarine to surface and later sinks. The entire crew are saved and taken on board destroyer Faulknor. U39 becomes the first German U-boat lost in the war. Meanwhile, the Skuas sight the Fanad Head laying stopped and being shelled by U30 with her deck gun. Two Skuas crash into the sea while attacking the U30 that dives.
26 September 1939: Skuas from Ark Royal shot down the first German plane of the war over the North Sea, a Dornier 18 flying boat. At about 0220, the Ark Royal is attacked by a Heinkel 111 (Leutnant Adolf Francke). A 2,000 lbs bomb lands close to the ship some 30 yards from the port bow. German propaganda claims to have sunk the carrier but this is not the case.
27 September 1939: Returns to Scapa Flow.
02 October 1939: Ark Royal puts to sea together with the battle cruiser Renown and a screen of four destroyers forming Force K.
12 October 1939: Force K reaches Freetown and refuels. She then sails to the South Atlantic to assist in the search for the German Panzerschiff Admiral Graf Spee.
03 December 1939: Enters into Capetown harbour and remains there for 24 hours.
17 December 1939: Ark Royal and Renown arrive at Rio, Brazil. Both ships refuel and then sail on the same day for the Plate. On their way to R. Plate, news arrive that the Germans had scuttled their ship, and therefore Ark Royal heads to Freetown.
27 December 1939: Reaches Freetown.
15 February 1940: Ark Royal returns to England to refit. Her crew goes on leave for the first time since the outbreak of the war.
22 March 1940: Sails for the Mediterranean and later arrives at Alexandria in company with Glorious.
10 April 1940: Ark Royal and Glorious are recalled to Gibraltar following the German invasion of Norway. After that they move to Scapa Flow.
23 April 1940: Ark Royal and Glorious leave Scapa Flow for the Norwegian coast.
01 May 1940: Captain C. S. Holland takes over command of the Ark Royal from Captain Power.
25 May 1940: Ark Royal leaves the Norwegian coast for Scapa Flow.
13 June 1940: At midnight, a striking force of 15 Skuas from Ark Royal is launched to attack the battleship Scharnhorst in Trondheim harbour. The German battleship is hit by a 500-pound bomb but it fails to detonate. On the other hand, the striking force is intercepted by German fighters and eight Skuas are lost.
13-18 June 1940: At Scapa Flow.
18 June 1940: Ark Royal sails from Scapa Flow to join Force H at Gibraltar.
23 June 1940: Arrives at Gibraltar.
03 July 1940: Under the command of Vice-Admiral Sir James Somerville, Force H approaches Oran, Algeria, and takes action against the French ships at Mers-el-Kebir.
09 July 1940: While covering convoy movements in the Western Mediterranean, forty Italian Savoia S. M. 79 bombers attack Force H in the afternoon dropping over 100 bombs. However, no damage or casualties are inflicted on Force H.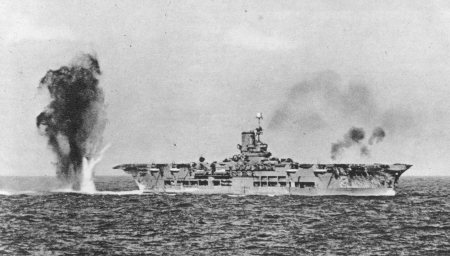 The Ark Royal under attack by Italian bombers on 9 July 1940.
---
02 August 1940: At 0230, the Ark Royal launches an air strike with twelve Swordfish bombers led by Lieutenant-Commander G. B. Hodgkinson on Cagliari, Sardinia. The aerodrome installations are damaged and two Swordfish lost.
02-03 September 1940: Conducts two air strikes (Operations "Smash" and "Grab") with Swordfish bombers on Cagliari. These attacks are led by Lieutenant-Commander Mervyn Johnstone.
21 September 1940: Sails from Freetown in company with Force M towards Dakar.
23-24 September 1940: Ark Royal takes action against French ships at Dakar.
28 September 1940: Sails to the United Kingdom to refit.
09 November 1940: Conducts an air strike on Cagliari.
27 November 1940: Force H takes action against the Italian fleet off Cape Spartivento, Sardinia. Ark Royal launches two air strikes on Italian warships and it is attacked herself in the afternoon by Italian Savoia 79 bombers. Ark Royal is straddled several times by bombs but suffers no damage. In the evening Force H returns to Gibraltar.
06 January 1941: Force H departs Gibraltar escorting a convoy bound for Malta.
02 February 1941: Launches a striking force of eight Swordfish to attack the Tirso dam in Sardinia.
09 February 1941: Launches air strikes with Swordfish bombers on the Italian ports of Genoa, Spezia, Pisa and Leghorn.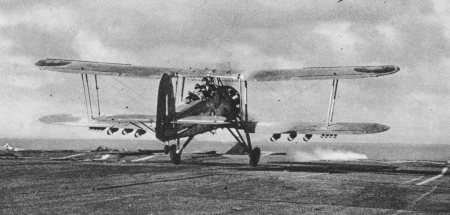 Swordfish bomber armed with bombs takes off from Ark Royal during the bombardment of Genoa.
---
February-March 1941: Operations with Force H in the Eastern Atlantic escorting outward and homeward bound Sierra Leone Convoys.
20 March 1941: A Fulmar from Ark Royal sights the German battleships Scharnhorst and Gneisenau at about 600 miles WNW of Cape Finisterrre. However, the Ark Royal is too far to launch an air strike and both German warships enter Brest on the 22th.
19 April 1941: Captain Loben E. Maund takes over command of the Ark Royal from Captain Holland.
22 May 1941: Force H returns to Gibraltar after safely flying off to Malta 48 Hurricane fighters from Ark Royal and Furious.
24 May 1941: Force H (Ark Royal, Renown, and Sheffield) departs Gibraltar.
26 May 1941: Following the sighting of the Bismarck by Catalina Z/209, Swordfish 2H from Ark Royal piloted by Sub-Lieutenant (A) J. V. Hartley, with Sub-Lieutenant (A) P. R. Elias as his observer, sights the German battleship at 1114 hours. At 1450, fifteen Swordfish commanded by Lieutenant-Commander J. A. Stewart-Moore, take off from the Ark Royal to attack the Bismarck. At 1550, they obtain radar contact with a ship and dive to attack. The attack, however, turns out to be a failure as the ship sighted is actually the light cruiser Sheffield (Captain Charles A. Larcom) which had been previously detached from Force H to make contact with the Bismarck. Luckily for the British, the Sheffield is not hit by any of the eleven torpedoes launched because they were armed with faulty magnetic pistols. Two torpedoes explode on hitting the water, three on crossing the cruiser wake, and the other six are successfully avoided. The Swordfish return to the Ark Royal and land on her deck after 1700. At 1915, another group composed of fifteen Swordfish takes off, this time under the command of Lieutenant-Commander T.P. Coode and with their torpedoes armed with contact pistols. The striking force first approaches the Sheffield to get the range and bearing of the Bismarck, and at 2047, dive to attack. During the course of the attack, the Bismarck is hit by at least two 18 inch MK XII torpedoes. One torpedo (or two) hits the port side amidships, and another strikes the stern in the starboard side jamming both of her rudders at 12º to port.
27 May 1941: At 0920, Ark Royal launches twelve Swordfish in order to attack the crippled Bismarck that is being engaged by Admiral Tovey's force at this time. The striking force appears in the scene of the battle at about 1015, but due to the heavy fire from the British warships stays away. The Bismarck finally sinks at 1040.
29 May 1941: Ark Royal arrives at Gibraltar to resume her operations with Force H in the Mediterranean.
13 November 1941: While on her way to Gibraltar in company with the Malaya, Argus, Hermione and seven destroyers, the Ark Royal is attacked by the U81 (Kapitänleutnant Guggenberger) in the Mediterranean. At 1541, a torpedo strikes the starboard side and the ship immediately takes a 10º list. By 1600, the starboard list has increased to 18º, and Captain Maund orders all those not required to remain aboard to abandon ship. Destroyer Legion (Commander R. S. Jessel) comes alongside Ark Royal's port quarter, takes most of her crew on board, and then cast off at 1648. Some 250 men including the Captain remain on board to try to save the ship. In the following hours Destroyer Laforey comes alongside Ark Royal two times to provide feed water and electrical power, but by 0400 on the 14th, the list has increased to 27º. At 0430, the remaining crew leaves the ship. Then at 0613, fourteen hours after being torpedoed, the Ark Royal turns over and sinks shortly after in approximate position 36º 03' North, 04º 45' West (see the map below). Out of a crew of more than 1,500 officers and men only Able Seaman E. Mitchell is killed.

View HMS Ark Royal Sinking in a larger map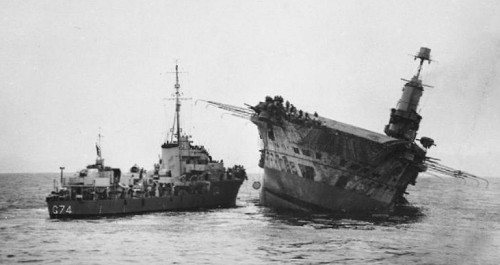 The Ark Royal with a heavy starboad list and sinking being assisted by the destroyer Legion (G74).
---
03 May 1943: The aircraft carrier Ark Royal, the fourth vessel to bear the name is laid down. She is launched on 3 May 1950 and commissioned on 28 February 1955. Scrapped in 1980.
07 December 1978: The new aircraft carrier Ark Royal, the fifth vessel to bear the name is laid down by Swan Hunter at Wallsend. She is launched on 20 June 1981 and commissioned on 1 November 1985. Decommissioned on 11 March 2011.
18 December 2002: The wreck of the Ark Royal III is found. It lies at a depth of about 3,500 feet east of Gibraltar.
---
LINE DRAWING
(By Manuel P. González López)


The Ark Royal as she looked in May 1941.
---
COMMANDERS
16 November 1938 - 30 April 1940: Captain A. J. Power.
01 May 1940 - 18 April 1941: Captain C. S. Holland.
19 April 1941 - 13 November 1941: Captain Loben E. Maund.
---
TECHNICAL DATA
Displacement: standard 22,000 mt, full load 27,000 mt.
Dimensions: overall length/flight deck 243.8 m (800 ft), waterline length 685 ft, beam 21.7 m, maximum draft 7.2 m, height 12.45 m.
Armour: belt 80 mm, turrets 70-160 mm, upper deck 30 mm, armour deck 30 mm, conning tower 150 mm, torpedo bulkhead 20 mm.
Armament: 16 x 4.5-in, 42 x 2 pom-poms,
Aircraft:
- 1939-40: 26 Fairey Swordfish, 24 Blackburn Skuas.
- 1940-41: 30 Fairey Swordfish, 12 Blackburn Skuas, 12 Fairey Fulmars.
- 1941: 36 Fairey Swordfish, 18 Fairey Fulmars.
Propulsion plant: 6 Admiralty-Yarrow small-tube type boilers, three Parsons turbine sets, 103,000 shp.
Speed: 31.7 knots.
Endurance: 6,800 nm at 16 knots.
Fuel capacity: 4,250 mt.
Crew: 1,600.
---

Copyright © 1998-2021 KBismarck.com