BATTLESHIP PRINCE OF WALES
Compiled by José M. Rico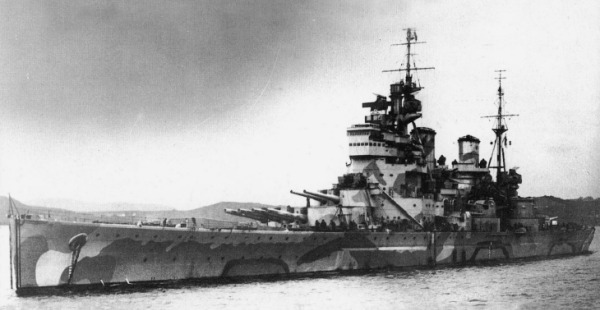 The Prince of Wales in the Summer of 1941.
---

The battleship Prince of Wales was the second ship of the King George V class. In May 1941, she was sent to the Atlantic together with the HMS Hood to intercept the Bismarck, and participated in the brief engagement at the Denmark Strait that resulted in the sinking of the famous British battlecruiser. Two months later, the battleship transported Prime Minister Churchill across the Atlantic to Newfoundland to meet with President Roosevelt. In October, the Prince of Wales was sent to Singapore to act as a deterrent against a possible Japanese aggression. On 10 December, she was bombed, torpedoed and sunk together with the battlecruiser Repulse off the coast of British Malaya by land-based Japanese planes operating from Indo-China some 400 miles away. The Prince of Wales was the first and only modern British battleship sunk in World War II, and the final action marked the first time in which capital ships were sunk exclusively by an air attack while at sea.
---
CAREER TIMELINE
01 January 1937: Lay down at Cammell Laird shipyard, Birkenhead.
03 May 1939: Launched.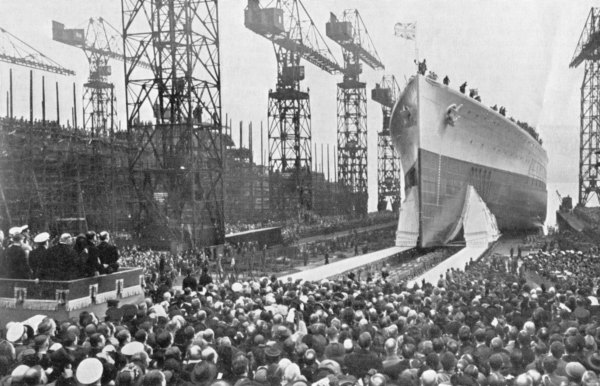 The launching of the Prince of Wales at Birkenhead on 3 May 1939.
---
Night of 31 August 1940: While undergoing outfitting at the Shipyard, the ship is damaged by a near miss bomb during a German air raid.
05 October 1940: Captain Louis K. Hamilton is appointed commander of the ship.
19 January 1941: Commissioned at Birkenhead.
30 January 1941: Arrives in Rosyth.
31 January - 04 March 1941: Drydocked at Rosyth. Fitting out.
15 February 1941: Captain John C. Leach takes over command of the ship.
25 March 1941: Prince of Wales arrives in Scapa Flow and begins her sea trials.
31 March 1941: Ship completed for service.
05 April- 16 May 1941: Conducts exercises in and around Scapa Flow.
---
CHASING THE BISMARCK
21 May 1941: Shortly before midnight, the Prince of Wales departs Scapa Flow for Hvalfjord in Iceland together with the battlecruiser Hood flying the flag of Vice-Admiral Lancelot Ernest Holland, and escorted by destroyers Achates, Antelope, Anthony, Echo, Electra, and Icarus. Their mission is to cover the access points south and east of Iceland in case the German battleship Bismarck tries to break into the Atlantic.
24 May 1941: Naval engagement in the Denmark Strait.
0535. The Prince of Wales sights the Bismarck and the Prinz Eugen in the Denmark Strait.

0552, 0553. Hood and Prince of Wales open fire with their forward turrets on the Prinz Eugen and the Bismarck respectively. Distance 25,000 yards.

0556-0559. Prince of Wales obtains 3 hits on the Bismarck.

0601. The Hood is hit in the after magazine by a 38cm projectile from the Bismarck and blows up.

0602. The Prince of Wales is hit in the bridge by a 38cm projectile that kills everybody there, except Captain Leach and another man.

0603. Captain Leach breaks off the action and turns away under a smoke screen, after being hit by 4 x 38 cm and 3 x 20.3 cm projectiles from the German warships. "Y" turret continues to fire under local control while retreating but no more hits are obtained on the enemy. The Prince of Wales fires a total of 18 salvos plus 3 more with "Y" turret, and expends 55 x 14-inch shells overall. 13 fatal casualties on board.

1846-1856. Artillery engagement with the Bismarck from 30,000 yards. The Prince of Wales fires 12 main battery salvos but due to the extreme range obtains no hits. Overall, 41 x 14-inch shells are fired.
25 May 1941: At 0131 hours, Price of Wales fires a double salvo (5 rounds) at Bismarck from 20,000 yards but due to the poor visibility obtains no hits.
27 May 1941: At 0530 hours, the Prince of Wales arrives at Reykjavik with the light cruisers Aurora, Galatea and four destroyers. The battleship anchors in Hvalfjord. While anchored there transmits the first battle reports to the Admiralty about the engagement in the Denmark Strait.
28 May 1941: Departs Hvalfjord for Rosyth.
30 May 1941: Arrives in Rosyth.
---
June-July 1941: Undergoes repairs at Rosyth. The three UP rocket launchers located on top of "B" and "Y" turrets are removed and replaced with two "Pom-Pom" mounts. A new Type 273 surface search radar is added.
19 July 1941: Transferred to Scapa Flow to join the Home Fleet.
04 August 1941: Operation Riviera. Prince of Wales escorted by destroyers departs Scapa Flow.
09-12 August 1941: Anchored at Placentia Bay, Newfoundland, after bringing Prime Minister Winston Churchill and the First Sea Lord, Admiral Pound, across the Atlantic to meet with President Franklin D. Roosevelt. This meeting ends in a joint declaration (later known as the Atlantic Charter) which outlines the aims of the UK and the USA for the postwar world.
16 August 1941: Anchors in Hvalfjord, Iceland.
18 August 1941: Arrives in Scapa Flow.
15 September 1941: Departs Scapa Flow to provide escort to Convoy WS.11X from the Clyde to Gibraltar.
26-28 September 1941: Operation Halberd. Prince of Wales joins Force H and escorts a convoy from Gibraltar to Malta.
01 October 1941: Departs Gibraltar for Scapa Flow escorted by destroyers.
06 October 1941: Arrives in Scapa Flow.
---
TO THE FAR EAST
23 October 1941: Leaves Scapa Flow bound for Singapore flying the flag of Admiral Sir Tom Phillips.
16 November 1941: Reaches Capetown with destroyers Electra and Express.
28 November 1941: Prince of Wales, Electra and Express reach Colombo and later meet with the battlecruiser Repulse.
02 December 1941: Prince of Wales, Repulse, Electra, Express, Encounter and Jupiter arrive in Singapore. The Prince of Wales becomes the flagship of Force Z, under the command of Admiral Phillips.
07 December 1941: At 0755 hours (local Hawaii time, Zone + 10½) the U.S. naval base at Pearl Harbor is attacked by Japanese carrier-based aircraft. Almost simultaneously Japanese forces invade Siam and Malaya.
08 December 1941: Shortly after the attack on Pearl Harbor, at 0400 hours (local time, Zone -7½), Singapore is bombed by Japanese aircraft. Later in the afternoon, after receiving reports of Japanese landings at Singora and Kota Bharu, Admiral Phillips leaves Singapore at 1735 hours, with the Prince of Wales, the Repulse and destroyers Electra, Express, Vampire and Tenedos, in order to attack the enemy transports.
09 December 1941: In the evening, Force Z is sighted by Japanese reconnaissance aircraft, and having lost the element of surprise, Admiral Phillips decides to head south back to Singapore at 2015 hours. However, shortly before midnight, a new report is received mistakenly informing of Japanese landings at Kuantan which was not far away, and therefore, Force Z alters course towards Kuantan.
10 December 1941: Force Z arrives off Kuantan at 0800 hours only to find that no enemy forces are landing there. Shortly after 1100 hours, Force Z is attacked by a series of waves of Japanese aircraft belonging to the 22nd Air Flotilla based in Indo-China. During the first attack, at 1118 hours, by 9 Mitsubishi G3M2 "Nell" high level bombers flying at 10,000 feet, the Repulse is hit by one bomb on the port hangar but no serious damage is caused. At 1144 hours, 9 Mitsubishi G4M1 "Betty" torpedo bombers attack the Prince of Wales that is hit by one Type 91 torpedo on the port side putting both port shafts out of action and causing serious damage aft. The ship takes a 11º list to port and speed drops to 15 knots. At 1156, torpedo bombers attack the Repulse but the ship succesfully avoids the enemy torpedoes. At 1210, PoW hoists the "not under control" signal. At 1222, the Prince of Wales is attacked again by another squadron of torpedo bombers that obtain 3 more hits on the starboard side further reducing the speed of the battleship to 8 knots. At this time, Repulse closes to assist the Prince of Wales, but at 1225 the battlecruiser is hit by one torpedo jamming her rudder, followed by 3 more hits sealing the ship's fate. At 1233, the Repulse rolls over to port and sinks with the loss of 513 men. At 1305, destroyer Express comes alongside the starboard side of Prince of Wales to rescue the crew and remains there until the very last moment. The Prince of Wales finally sinks at 1320 hours with the loss of 327 men including Admiral Phillips and Captain Leach. The Japanese lose 3 aircraft.
The wreck of the Prince of Wales rests at about 60 miles to the east of the Malay Peninsula coast. It lies upside down at a depth of 68 meters in position 3º 33' 36" North, 104º 28' 42" East (see the map below).
---
LINE DRAWINGS
(By Manuel P. González López)

---
COMMANDERS
19 January 1941 - 14 February 1941: Captain Louis K. Hamilton.
15 February 1941 - 10 December 1941: Captain John C. Leach.
---
TECHNICAL DATA
Displacement: standard 38,600 mt, full load 44,500 mt.
Dimensions: overall length 227.12 m, waterline length, beam 31.45 m, maximum draft 10.40 m, depth .
Armour: Main belt 348-374 mm, turrets 149-324 mm, armour deck 124-149 mm, conning tower 75 mm, torpedo bulkhead 38 mm.
Armament:
• 10 x BL 14-inch Mark VII guns in two quadruple turrets and one double turret.
• 16 x QF 5.25-inch Mark I guns in eight double turrets.
• 32 x QF 2-pounder Mark VIII "Pom-Pom" guns in four octuple mounts (two additional mounts added in July 1941).
• 3 x UP rocket launchers in three 20 barrel mounts (removed in July 1941).
• 1 x Bofors 40 mm gun.
• 8 x Oerlikon 20 mm guns in single mounts (in December 1941).
Fire control:
• 2 x 15ft rangefinders.
• 2 x 42ft rangefinders in "A" and "Y" turrets.
• 1 x 30ft rangefinder in "B" turret.
• 4 x HACS Mk.IV with 15ft rangefinders.
Radar equipment:
• 1 x Type 284 for main fire control.
• 1 x Type 281 for air warning.
• 1 x Type 273 for surface search (added in July 1941).
• 4 x Type 285 for fire control of 5.25-inch guns.
• 4 x Type 282 for fire control of "Pom-Pom" guns
Seaplanes: 2 x Supermarine Walrus.
Propulsion plant: 8 Admiralty 3-drum boilers, 4 Parsons turbine sets, 125,000 shp (maximum).
Speed: 28-29 knots.
Endurance: 4,750 nm at 18 knots.
Fuel capacity: 4,000 mt.
Crew: 1,600.
---
RELATED LINKS