THE ADMIRAL GRAF SPEE
Compiled by José M. Rico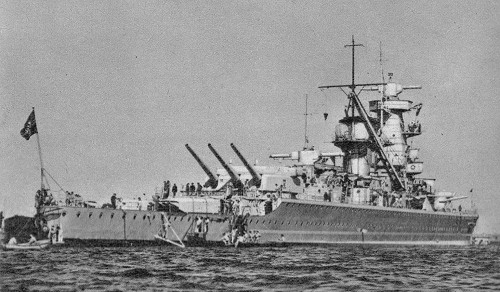 The Panzerschiff Graf Spee.
---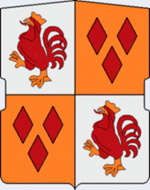 The third and final Panzerschiff of the Deutschland class, the Admiral Graf Spee, was commissioned in January 1936, and after the appropriate trial period, served as flagship of the German fleet. Like her two other sister ships, the Graf Spee conducted several non-intervention patrols off the coast of Spain during the Spanish Civil War (1936-1939). In late August 1939, shortly before the outbreak of the European war, the Graf Spee was sent to a waiting position in the south Atlantic as a precautionary measure. Once war actually broke out, she ran a successful commerce raiding campaign, in which nine British ships were sunk totaling 50,089 GRT, before she encountered the British cruisers Exeter, Ajax, and Achilles on 13 December. In the engagement that followed, known as the Battle of the River Plate, the Exeter and the Ajax were heavily damaged, but the Graf Spee was also hit and ran into Montevideo for repairs. There, the Uruguayan authorities granted a period of only 72 hours which the Germans considered not enough to make their ship seaworthy again. In view of the apparently hopeless situation after failing to obtain an extension of the time allowed, Captain Langsdorff ultimately decided to scuttle the ship and save the crew that was interned in Argentina.
---
CAREER TIMELINE
01 October 1932: Lay down on Slipway 2 at the Marinewerft shipyard in Wilhelmshaven. Construction number S 124.
30 June 1934: Launched. Christened by Huberta, daughter of Vice-Admiral Maximilian von Spee who lost his life during the Battle of the Falkland Islands in 1914, and after whom the ship was named. The final cost of the new ship will rise to RM. 82 Million.
06 January 1936: The Admiral Graf Spee is commissioned under Captain Konrad Patzig.
09 May 1936: Joins the fleet.
29 May 1936: Participates in the fleet parade for the inauguration of the naval memorial at Laboe, near Kiel.
06-26 June 1936: Atlantic trials. Visits Santa Cruz de Tenerife in the Canary Islands.
27 June - 19 August 1936: At Wilhelmshaven.
20 August 1936: Leaves Wilhelmshaven for Spanish waters.
25 August 1936 - 05 October 1936: Conducts non-intervention patrols off the coast of Spain.
09 October 1936: Arrives in Wilhelmshaven.
13 December 1936 - 14 February 1937: Patrol operations in Spanish waters.
02 March - 06 May 1937: Patrol operations in Spanish waters.
15-21 May 1937: Represents Germany in the international naval review at Spithead on the occasion of the coronation of King George VI.
June 1937: At Kiel.
23 June - 07 August 1937: Conducts non-intervention patrols in Spanish waters. Itinerary: Kiel (23 Jun.), English Channel (25 Jun.), El Ferrol (27 Jun.), Lagos (28 Jun.), Tangier (3-6 Jul.), Gibraltar (6 Jul.), Cagliari (9-11 Jul.), Lagos (18-21 Jul.), Cadiz (24-27 Jul.), Cagliari (30-31 Jul.), Lagos (3 Aug.), Kiel (7 Aug.).
18-20 September 1937: Cruise to Sweden and visit to Visby.
02 October 1937: Captain Walter Warzecha takes over command of the Graf Spee from Captain Patzig.
01-02 December 1937: Cruise to Kristiansand, Norway.
07-18 February 1938: Conducts non-intervention patrols in Spanish waters.
17 March 1938: The Graf Spee runs over U-35 that is badly damaged.
20 March - April 1938: Repair work and modifications at Deutsche Werke Kiel.
29 June - 09 July 1938: Training cruise in Norwegian waters.
22 August 1938: At Kiel for the launching of the heavy cruiser Prinz Eugen.
06-23 October 1938: Operation in the Atlantic with the three destroyers of the 2nd Division, Paul Jacobi, Theodor Riedel, and Hermann Schoemann. Including visits to Tangier (15-17 Oct.), Ceuta (17-19 Oct.), and Vigo (20 Oct.).
01 November 1938: Captain Hans Langsdorff takes over command of the Graf Spee.
10-24 November 1938: Cruise through the English Channel, the Bay of Biscay, and visit to Bilbao, Spain, returning to Wilhelmshaven on the 24th.
22-24 March 1939: Present during the annexation of Memel Territory.
01 April 1939: At Wilhelmshaven during the launching of the battleship Tirpitz.
18 April - 15 May 1939: Participates in naval exercises in the Atlantic as part of a German squadron under the command of Admiral Boehm. Other ships involved include the armoured ships Deutschland and Admiral Scheer, the light cruisers Köln, Leipzig and Nürnberg, several destroyers and u-boats. Graf Spee visits Ceuta, Spain (27 Apr. - 02 May), and Lisbon, Portugal (06-11 May).
16 May 1939: Arrives in Wilhelmshaven.
---
WAR CRUISE
21 August 1939: Departs Wilhelmshaven for the south Atlantic as a precautionary measure in case war breaks out.
03 September 1939: The United Kingdom and France declare war on Germany following the German invasion of Poland on 1 September.
26 September 1939: The Graf Spee is ordered to leave her waiting area and commence hostilities against British merchant shipping.
30 September 1939: Sinks British steamer Clement (5,051 GRT) at about 75 miles south-east of Pernambuco, Brazil.
05 October 1939: Captures British steamer Newton Beech (4,651 GRT) with a cargo of 7,194 tons of corn.
07 October 1939: Stops British steamer Ashlea (4,222 GRT) loaded with 7,200 tons of sugar, and sinks her with scuttling charges at about 9º 52' South, 3º 28' West.
08 October 1939: Sinks Newton Beech.
10 October 1939: Captures British steamer Huntsman (8,196 GRT) loaded with 1,520 tons of tea.
15 October 1939: Rendezvous with supply ship Altmark (Captain Heinrich Dau) at about 21º 59' South, 15º 20' West.
17 October 1939: Sinks the Huntsman.
22 October 1939: Sinks British steamer Trevanion (5,299 GRT) loaded with 8,835 tons of Australian zinc mineral.
15 November 1939: Sinks British tanker Africa Shell (706 GRT).
02 December 1939: Sinks British steamer Doric Star (10,086 GRT) loaded with wool, cereals and refrigerated meat off St. Helena.
03 December 1939: Sinks British steamer Tairoa (7,983 GRT).
06 December 1939: Meets with Altmark for the last time.
07 December 1939: Sinks British steamer Streonshalh (3,895 GRT) loaded with 5.654 tons of wheat.
13 December 1939: At about 240 miles to the east of the River Plate estuary, the Graf Spee runs into the British cruisers Exeter (Captain F.S. Bell), Ajax (Captain C. H. L. Woodhouse), and Achilles (Captain W. P. Perry) under the command of Rear-Admiral Henry Harwood. The German ship opens fire on Exeter at 0617 hours from a distance of about 10 miles in what will be known as the battle of the River Plate. During the course of this engagement, the Exeter is completely put out of action, the Ajax is damaged with X and Y turrets disabled, while Achilles receives only minor damage. The Graf Spee, on the other hand, is hit by 2 x 8-inch and 18 x 6-inch projectiles which cause considerable damage upperworks although the ship's main guns and propulsion plant remain intact. Captain Langsdorff decides to make for the neutral port of Montevideo to carry out temporary repairs. Casualties: 36 dead and 60 wounded.
14 December 1939: Enters Montevideo shortly after midnight.
17 December 1939: Shortly after 1800 hours, the Graf Spee leaves the harbour of Montevideo with a reduced crew of 42 men. Before leaving the neutral 3-mile limit, the crew transfers to a freighter and the ship is scuttled in shallow waters at 2055 hours. Position 34º 58' 18" South, 56º 17' 57" West (see the map below). The crew is interned in Argentina although a few men will later manage to escape back to Germany.

View Graf Spee Wreck in a larger map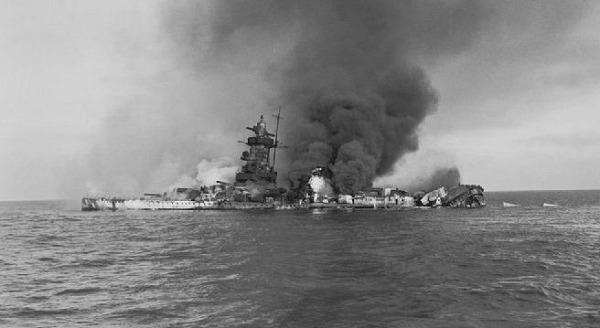 The Graf Spee after being scuttled by her own crew at the River Plate on 17 December 1939.
---
20 December 1939: Captain Langsdorff commits suicide.
March 1997: One of the 15cm guns of the ship is salvaged from the wreck.
February 2004: The foretop 10.5m rangefinder is salvaged from the wreck.
February 2006: The stern bronze eagle is salvaged from the wreck.
---
LINE DRAWINGS
(By Manuel P. González López)

The Graf Spee as she looked in December 1939.
---
COMMANDERS
06 Jan 1936 - 01 Oct 1937: Kapitän zur See Konrad Patzig.
02 Oct 1937 - 31 Oct 1938: Kapitän zur See Walter Warzecha.
01 Nov 1938 - 17 Dec 1939: Kapitän zur See Hans Langsdorff.
---
MEN IN COMMAND OF THE GRAF SPEE
(December 1939)
Commander: Kapitän zur See Hans Langsdorff.
Executive Officer: Kapitän zur See Walter Kay.
First Artillery Officer: Fregattenkapitän Paul Ascher
Chief Engineer: Korvettenkapitän (Ing.) Karl Klepp.
Second Artillery Officer: Korvettenkapitän Hans Fuchs.
Third Artillery Officer: Korvettenkapitän Kurt Meusemann.
Administrative Officer: Korvettenkapitän (V) Heinrich Nakoetter.
Navigation Officer: Korvettenkapitän Jürgen Wattenberg.

---
TECHNICAL DATA
Displacement: standard 12,100 mt, full load max. 16,200 mt.
Dimensions: Waterline length 181.7 m, overall length 186 m, beam 21.65 m, maximum draft 7.34 m, depth: 12.2.
Armour: main belt 100 mm (13º inclined), main turrets 75-170 mm, armour deck 30-40 mm, conning tower 50-150 mm, torpedo bulkhead 40 mm.
Armament:
• 6 x 28cm SK C/28 guns in two triple turrets.
• 8 x 15cm SK C/28 guns in single turrets.
• 6 x 10.5cm SK C/33 guns in three double mounts.
• 8 x 3.7cm SK C/30 guns in four double mounts.
• 10 x 2cm MG C/30 guns in single mounts.
• 8 x 53.3cm torpedo tubes in two quadruple mounts.
Radar Equipment: 1 x FMG 39G (gO).
Seaplanes: 1 x Heinkel He-60 (replaced in 1939 with 1 x Arado ar 196).
Propulsion plant: 8 x MAN diesel engines, two shafts, 54,000 hp. One rudder.
Speed: 26 knots (designed), 28.5 knots (at 53,650 hp on trials).
Endurance: 16,500 nm at 18 knots, 7,900 nm at 26 knots.
Fuel capacity: 2,720 mt.
Crew: 1,150 (including prize crew).
---
SHIP MODELS
1/20 scratch built Graf Spee (by William Terra, USA)

1/100 scratch built Graf Spee (by Stefan Maiss, Germany)
---
RELATED LINKS