THE BATTLESHIP GNEISENAU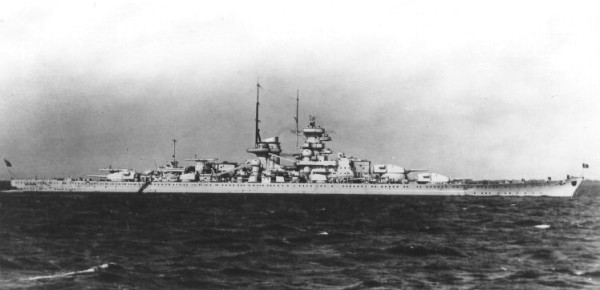 The battleship Gneisenau in 1939 before the outbreak of the war.
---
CAREER TIMELINE
06 May 1935: Keel Laid down on Slipway 1 at the Deutsche Werke shipyard in Kiel. Construction number K 235.
08 December 1936: Launched. General Werner von Fritsch makes the christening speech and then the ship is christened by Frau Maerker, the widow of Captain Julius Maerker, Commander of the armoured cruiser Gneisenau sunk in World War I.
21 May 1938: Commissioned under Captain Erich Förste.
30 June - 8 July 1938: Maiden voyage in northern waters with a detour in the North Atlantic.
22 August 1938: At Kiel during the launching of the heavy cruiser Prinz Eugen. The Gneisenau participates in the naval parade on the occasion of the state visit of the Hungarian regent Admiral Miklós Horthy.
October-December 1938: Modifications at Deutsche Werke Kiel. The ship is fitted with an Atlantic bow, a new funnel cap, and foremast.
12 June - 26 July 1939: Six week trial cruise into the Mid-Atlantic to hold target practice and other exercises. Itinerary: Kiel, Wilhelmshaven, English Channel, Strait of Gibraltar, Las Palmas (1-2 July), Madeira, Azores, English Channel, Kiel.
04 September 1939: While anchored in Brunsbuttel roads, Gneisenau is attacked by British bombers. No bomb hits.
08 September 1939: Gneisenau and Scharnhorst pass through the Kiel Canal for exercises in the Baltic Sea.
05 October 1939: Gneisenau passes through the Kiel Canal.
07-10 October 1939: Leaves the Jade for a sortie into the North Sea together with the light cruiser Köln and the destroyers Wilhelm Heidkamp, Friedrich Ihn, Diether von Roeder, Karl Galster, Theodor Riedel, Max Schulz, Bernd von Arnim, and Friedrich Eckoldt. No special occurrences.
10 October - 07 November 1939: At Kiel.
08-09 November 1939: Passes through the Kiel Canal.
09-21 November 1939: Anchored in Wilhelmshaven Roads.
21 November 1939: Departs Wilhelmshaven with her sister-ship Scharnhorst under the command of Vizeadmiral Wilhelm Marschall.
23 November 1939: Shortly after 1600 hours, Scharnrhost and Gneisenau engage the 16,697-ton British auxiliary cruiser Rawalpindi (Captain Edward Kennedy) between Iceland and the Faroe Islands. Rawalpindi finally sinks at about 2000 hours. The Germans pick up 27 survivors.
26 November 1939: Captain Harald Netzbrand assumes command of the Gneisenau.
27 November 1939: At midday arrives in Wilhelmshaven.
29 November 1939: Passes through the Kiel Canal.
December 1939 - January 1940: At Kiel.
04 February 1940: Gneisenau passes through the Kiel Canal on her way to Wilhelmshaven.
18-20 February 1940: Operation Nordmark. The battleships Gneisenau and Scharnhorst, the heavy cruiser Admiral Hipper, and eight destroyers make a brief sortie into the North Sea. The group returns safely to Wilhelmshaven. No special occurrences.
06 April 1940: Operation Weserübung. At midnight, leaves Wilhelmshaven with Scharnhorst as the cover force of "Group I" for the invasion of Norway.
09 April 1940: Shortly after 0500 hours, some 50 miles off Narvik, Scharnhorst and Gneisenau under the command of Vizeadmiral Günther Lütjens, are engaged by the British battle cruiser Renown. In a brief exchange of fire, the Gneisenau is hit by one 15-inch and two 4.5-inch projectiles from the Renown. The 15-inch projectile hits the foretop platform and puts Gneisenau's main fire control out of action, killing five men, including the First Artillery Officer, Commander Hans-Georg von Buchka. The british battle cruiser in turn is hit by two 28cm shells.
12 April 1940: In the evening, Gneisenau, Scharnhorst, and Admiral Hipper arrive in Wilhelmshaven.
05 May 1940: Gneisenau explodes an enemy ground mine off the Elbe estuary. Damage is slight.
05-06 May 1940: Gneisenau passes through the Kiel Canal.
06-18 May 1940: Drydocked for repairs at Kriegsmarinewerft Kiel (Dock B).
22 May 1940: Leaves Kiel for the Baltic to carry out excercises.
01 June 1940: Returns to Kiel.
04 June 1940: Operation Juno. At 0700 hours leaves Kiel with Scharnhorst, the heavy cruiser Admiral Hipper and the destroyers Erich Steinbrink, Hans Lody, Hermann Schoemann, and Karl Galster.
08 June 1940: At about 1600, the Scharnhorst sights the British carrier Glorious (Captain D'Oyly-Hughes) escorted by the destroyers Acasta (Comander Charles Glasfurd), and Ardent (Lieutenant Commander J. F. Barker). At 1632 hours, Scharnhorst opens fire from 26,000 meters (28,500 yards). Six minutes later at 1638, from 24,000 meters (26,300 yards) the Glorious is hit in the flight deck starting a fire. Gneisenau opens fire at 1642, and a few minutes later the Glorious is hit again in the bridge killing the Captain and most of the personnel there. At 1656, Scharnhorst and Gneisenau cease fire temporarily due to smoke screen launched by the escorting destroyers. Thereafter, the Ardent launches eight torpedoes but obtains no hits and is sunk by the combined fire of both German battleships at 1725. The Glorious comes again under fire, and at 1720 she is hit in the centre engine room. Meanwhile, the Acasta closes on, and at about 1730, obtains a torpedo hit on Scharnhorst's starboard side under turret "Cäsar". The torpedo tores a hole of 14x6 meters in the hull, and 2,500 tons of water get on the ship. As a consequence of this torpedo hit the after 28cm turret is put out of action, and 48 men die. Heavily damaged, the Glorious capsizes and sinks at 1810. The Acasta finally sinks at 1820. In all more than 1,500 British sailors lose their lives. During this action Gneisenau expends 170 x 28cm shells.
09 June 1940: In the afternoon, Gneisenau and the damaged Scharnhorst arrive in Trondheim.
20 June 1940: At 1600 hours, Gneisenau, Admiral Hipper and four destroyers leave Trondheim for Iceland. Seven hours later, at about 40 miles northwest of the island of Halten, the Gneisenau is hit in the bow (sections XX-XXI) by a 21-inch MK VIII torpedo fired from the British submarine Clyde (Lieutenant Commander David C. Ingram). 1,000 tons of water get in the ship and the speed is reduced to 18 knots. There are no casualties. The German group returns to Trondheim.
25-27 July 1940: After temporary repairs in Trondheim, the Gneisenau returns to Kiel accompanied by the light cruiser Nürnberg.
August 1940: Captain Otto Fein takes over command of the Gneisenau from Captain Harald Netzbrand.
August-October 1940: Drydocked for repairs at Kriegsmarinewerft Kiel (Dock B).
14 November - 17 December 1940: Training exercises in the Baltic.
18 December 1940: Scharnhorst and Gneisenau leave Gotenhafen for Kiel.
---
ATLANTIC SORTIE
23 January 1941: Operation Berlin. Scharnhorst and Gneisenau, under the command of Admiral Günther Lütjens, depart Kiel for the Atlantic.
28 January 1941: Scharnhorst and Gneisenau sight the British cruiser Naiad in the Iceland-Faroe strait and turn around.
05 February 1941: Scharnhorst and Gneisenau enter the Atlantic through the Denmark Strait, and refuel from tanker Schlettstadt some 150 miles south of Cape Farewell.
08 February 1941: Sights convoy HX-106 escorted by the battleship Ramillies. Therefore Admiral Lütjens breaks contact.
14 February 1941: Scharnhorst and Gneisenau refuel from tankers Esso Hamburg and Schlettstadt.
22 February 1941: Scharnhorst and Gneisenau sink the British merchantmen Kantara (3,237 GRT), Trelawney (4,689 GRT), Huff (6,200 GRT), tanker Lustrous (6,150 GRT), and Harlesden (5,483 GRT).
27 February 1941: Scharnhorst and Gneisenau refuel from tankers Ermland and Friedrich Breme and head to the Canary Islands.
06 March 1941: Scharnhorst and Gneisenau meet with U-124 (Lieutenant Wilhelm Schulz).
07 March 1941: Scharnhorst and Gneisenau sight the battleship Malaya that together with other cruisers escorts convoy SL-67 of 58 ships. Lütjens reports the position of the convoy to the U-boats that sink the Harmodius (5,229 GRT), Hindpool (4,897 GRT), Lahore (5,304 GRT), Tielbank (5,084 GRT) and Nardana (7,974 GRT), with a total tonnage of 28,500 GRT. In the next eight days U-105 and U-106 sink seven more ships and score a torpedo hit in Malaya that heads to New York via Trinidad for repairs.
09 March 1941: Sinks the Greek merchantmen Marathon (6,350 GRT).
11-12 March 1941: Scharnhorst and Gneisenau refuel from tankers Ermland and Uckermark. Conference held on board Gneisenau with the Captains of both battleships and the tankers.
16 March 1941: Scharnhorst and Gneisenau capture or sink the British merchantmen Simnia (6,197 GRT), San Casimiro (8,046 GRT), British Strength (7,139 GRT), Athelfoam (6,554 GRT), and the Norwegian Bianca (5,684 GRT) and Polykarb (6,405 GRT), all from a dispersed convoy. Approximate position 40° 30' North, 43° 45' West. The search continues, and later in the day, they sink the Norwegian Granli (1,577 GRT), the British Demeterton (5,200 GRT), Sardinian Prince (3,200 GRT), Silverfir (4,347 GRT), Royal Crown (4,364 GRT), Empire Industry (3,648 GRT), and Rio Dorado (4,500 tons), the French Myson (4,564 GRT), the Dutch Mangkai (8,290 GRT), and the Danish Chilean Reefer (1,739 GRT).
22 March 1941: Scharnhorst and Gneisenau enter Brest.
---
06 April 1941: A Coastal Command Beaufort plane (Lieutenant Kenneth Campbell) of the 22º Squadron scores a torpedo hit on Gneisenau's starboard side between sections III and IV. The British aircraft is shot down by the land-based anti-aircraft batteries, but the ship is damaged and has to enter dry dock for repairs.
Night of 10-11 April 1941: The Gneisenau is hit by four 500lb SAP bombs dropped by the RAF, and this forces to lengthen the repair work for several months. 72 men killed.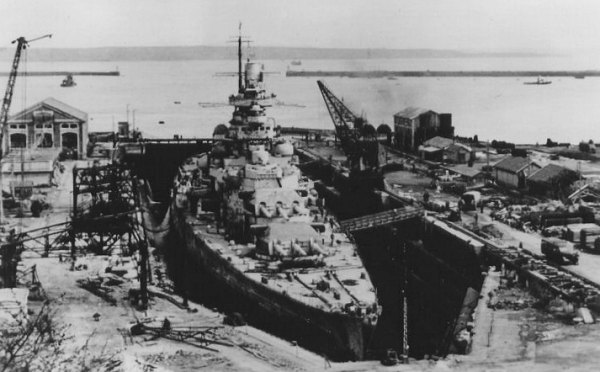 The Gneisenau in dry dock at Brest.
---
August-December 1941: Repair work.
11-13 February 1942: Operation Cerberus. Leaves Brest with Scharnhorst and the heavy cruiser Prinz Eugen escorted by the destroyers Paul Jakobi, Richard Beitzen, Friedrich Ihn, Hermann Schoemann, Z-25, and Z-29 for a dash through the English Channel. Group commanded by Vizeadmiral Otto Ciliax. Gneisenau strikes an enemy mine while passing through the English Channel but reaches Helgoland on the 13th.
14 February 1942: Passes through the Kiel Canal.
15 February 1942: Enters drydock for repairs at Deutsche Werke Kiel.
Night of 26-27 February 1942: During a heavy air raid on Kiel, the Gneisenau is hit by a bomb in the forecastle. The damage is severe and the ship is put out of action. 112 men are killed.
04 April 1942: Goes to Gotenhafen escorted by the Schlesien, where she is to be reconstructed and armed with six 38cm guns.
01 July 1942: The Gneisenau is decommissioned in Gotenhafen.
January 1943: All reconstruction work is suspended.
27 March 1945: Scuttled in Gotenhafen.
---
LINE DRAWINGS
(By Manuel P. González López)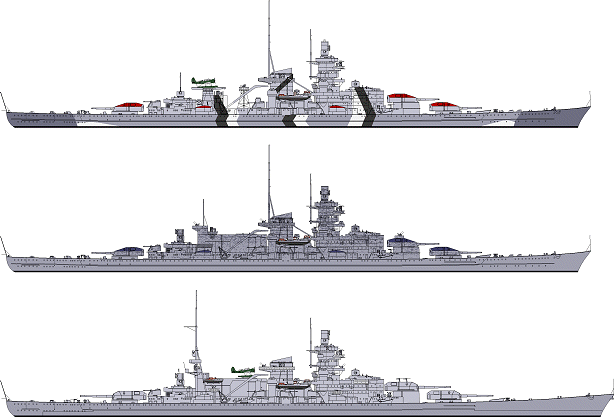 The Gneisenau in 1941 (up), during the Channel Dash in February 1942 (center), and as she would have looked like after the planned reconstruction (bottom).
---
COMMANDERS
21 May 1938 - 25 November 1939: Kapitän zur See Erich Förste.
26 November 1939 - 01 August 1940: Kapitän zur See Harald Netzbrand.
20 August 1940 - 14 April 1942: Kapitän zur See Otto Fein.
15 April 1942 - May 1942: Kapitän zur See Rudolf Peters.
---
TECHNICAL DATA
Displacement: standard 32,060 mt, full load 38,430 mt.
Dimensions: Waterline length 226 m, overall length 234 m, beam 30 m, maximum draft 9.9 m, depth 14.05 m.
Armour: main belt 350 mm, turrets 100-340 mm, upper deck 50 mm, armour deck 80-110 mm, conning tower 200-350 mm, torpedo bulkhead 45 mm.
Armament:
• 9 x 28cm SK C/34 guns in three triple turrets.
• 12 x 15cm SK C/28 guns in four double and four single turrets.
• 14 x 10.5cm SK C/33 guns in seven double mounts.
• 16 x 3.7cm SK C/30 guns in eight double mounts.
• 14 x 2cm guns (24 in 1942)
• 6 x 53.3cm torpedo tubes in two triple mounts (from 1942 on).
Seaplanes: 3 x Arado ar 196.
Propulsion plant: 12 boilers, three Deschimag turbine sets, 160,060 hp (maximum obtained).
Speed: 31 knots.
Endurance: 7,100 nm at 19 knots.
Fuel capacity: 6,108 mt.
Crew: 1,800+.
---

Copyright © 1998-2023 KBismarck.com